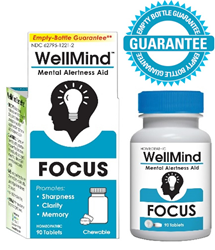 MediNatura makes serious medicines, from nature!
Philadelphia, PA (PRWEB) July 28, 2017
As many parents, students, and teachers are getting ready to focus on school again, MediNatura is releasing a new, natural way to sharpen mental acuity and address mental fatigue that can accompany long study hours, homework sessions, and grading student work. WellMind™ Mental Focus (ages 12+) is an alertness aid that can not only helps with school work but also in day-to-day functions on the job and at home.
Aging, stress, poor nutrition, and many other circumstances can lead to brain fog due to mental fatigue. Keeping sharp is an important part of overall well-being, and people are increasingly turning to alertness and focus products to support their long-term brain health.
WellMind™ Mental Focus tablets sharpens mental acuity with five ingredients that address brain fatigue due to various causes, such as a lack of sleep, nervous tension, and physical exhaustion. The chewable tablets are formulated with Cocculus indicus, a well-known homeopathic remedy for mental fatigue due to mental and physical overexertion, and are made with organic lemon flavor and organic stevia.
WellMind™ Mental Focus tablets have no known interactions with other medicines. They are non-addictive, don't cause jitters or overstimulation, and have no risk of overdose, so they can be used in conjunction with other acuity-enhancing products, such as those containing caffeine.
Also, WellMind™ Mental Focus comes with an Empty Bottle Guarantee**. Consumers can use the entire bottle and still get a full refund if they're not satisfied.
About MediNatura Inc.
MediNatura Inc., a Delaware Corporation headquartered in greater Philadelphia, specializes in prescription and over-the-counter pharmaceuticals made from natural medicines. You can reach MediNatura toll-free at 1-844-633-4628 Monday through Friday from 8am – 5pm MST or visit http://www.MediNatura.com.
Follow MediNatura on social media at:

These statements have not been reviewed by the Food and Drug Administration. They are supported by traditional homeopathic principles.
*WellMind™ Focus contains four natural active ingredients of five active ingredients; see packaging.
**Consumers can use WellMind™ Focus product – even the whole bottle - and if they're not satisfied, they can return it and a receipt to MediNatura at P.O. Box 407 MPS Dept. No. 786 Cinnaminson, NJ 08077 for a full refund. Visit http://www.MediNatura.com for full details.