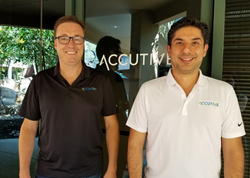 ...We have been strategically focused in our areas of expertise, and we are confident that this focus has sustained our business through the years...
San Juan Capistrano, CA (PRWEB) September 06, 2017
Accutive, a leading provider of security solutions, financial services software implementation, consulting services, and enterprise software solutions, has reached a milestone this month by celebrating 8 successful years in business! The company has experienced continuous and consistent organic growth year over year since its formation in 2009.
Accutive's customer base consists of Fortune 500 companies, banks, credit unions, insurance companies, health care, entertainment, retail and other organizations who need a committed partner for their critical software solutions and data protection. Accutive has earned the trust and respect of its clients and partners through many successful engagements, and looks forward to building upon these relationships for many years to come.
With operations in the United States, Canada, and India, the Accutive team consists of professionals with years of financial software development, security solutions, systems integration, and deployment experience. Supported by a modern corporate culture and a commitment to work-life balance, Accutive's employees enjoy an environment that is both challenging and rewarding.
With the insight gained across multiple industries and client engagements, Accutive has to date developed three of its own software solutions. The Data Mart solution for simplifying financial reporting; the Mobile Credit solution to integrate the credit application process in a secure, service oriented platform; and Enterprise Data Masking to simply and effectively mask sensitive data, while maintaining data usability, which is not easily achievable with more costly encryption solutions.
"Accutive was started in 2009 in the middle of an economic crisis that affected organizations locally, nationally, and globally. We have been strategically focused in our areas of expertise, and we are confident that this focus has sustained our business through the years, and will continue to do so in the future. Our philosophy is simple- we focus on client and employee satisfaction. This has been a key driver of our continued success," said Fariborz Ordukhani, CEO of Accutive.
Accutive is committed to the continued satisfaction of our clients, partners, and employees, and we look forward to many years of doing business together in the future.
About Accutive: Accutive provides comprehensive Information Technology solutions which includes Enterprise Security; IT Application Development; Systems Integration; Lending Platform Services; and Professional Services to clients in industries ranging from Financial Services, Healthcare, Technology, Entertainment, and Retail. Accutive is a specialized team of experienced professionals with years of industry, business, and IT expertise dedicated to developing IT solutions that exceed our clients' expectations.