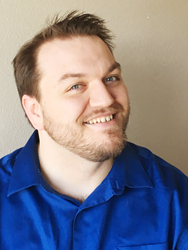 Seth brings a gift for explaining complex issues in easy-to-understand terms. He breaks down technical solutions clearly so the client understands the options fully—from cost to results." -- Keith Ruben, Vice President, E Squared C
(PRWEB) September 07, 2017
E Squared C, Inc. is pleased to announce Seth Griffin, who has provided Help Desk Support, Technical Sales and Technical Consulting services at E Squared C, is now the firm's General Manager. In his new role, Mr. Griffin wears many hats, and he welcomes the challenge. As Mr. Griffin explains, "'General' is very literal. Every day is different."
With nearly 15 years of experience providing IT services to small and large businesses, Seth has seen all sides of IT—from sales on the front lines to internal processes that keep the back end running smoothly. Keith Ruben, Vice President at E Squared C recognizes Mr. Griffin's strong communication skills, noting that "Seth brings a gift for explaining complex issues in easy-to-understand terms. He breaks down technical solutions clearly so the client understands the options fully—from cost to results."
Mr. Griffin has long specialized in translating IT solutions into business boons. As the IT Director for a manufacturing company in Moundhouse, Nevada, he revamped the hardware implementation procedure to reduce downtime by 90%. As the IT Administrator for a property management company in Gardnerville, Nevada, he implemented file server and print share functions that increased productivity by 32% and reduced costs. In other roles, he has implemented and managed tracking software to generate data that was used to increase sales by 33%. He also brings experience recovering and saving client data—at significant savings to the client.
Since joining E Squared C in 2014, Mr. Griffin has proved a leader in transforming the firm from a break-fix shop that reacts to customer emergencies to a fully managed IT service provider that proactively manages and reduces IT disruptions. He led an initiative to develop and implement an IT process that delivers consistent prevention services as well as future planning strategies to reduce downtime and increase productivity for clients.
Most recently, Seth has provided oversight for transitioning the company brand from E Squared C, "Computing Solutions—From End to End" to the more streamlined E²C, with the message "Smart IT Solutions." The transition, rolling out this fall, will include new branding, a new website, and new marketing publications.
When Seth is not wearing his General Manager, Sales Executives, Marketing, Team Leader, or vCIO (virtual Chief Information Officer) hat, he enjoys following the latest tech news. He reads CIO Today and follows Tech of Tomorrow—to be prepared for tomorrow every day.
About E Squared C
From on the ground IT management services to virtual machines, back-ups, and cloud computing, E Squared C has a history of providing innovative, cost-effective IT solutions that create efficiencies and cut costs. As a managed service provider, E Squared C provides clients with the same access and expertise of an internal team of IT employees certified in multiple fields—but at a lower overall cost. To accomplish this, E Squared C leverages the skills of its IT professionals with software platforms that provide additional network and endpoint monitoring and management capabilities. E Squared C's adaptive internal business process aligns the client's site infrastructure, allowing early detection and proactive intervention prior to network or endpoint failure—reducing or eliminating downtime and increasing overall productivity.
Contact Information
E Squared C, Inc.
Attn: Seth Griffin, General Manager
1603 Esmeralda Avenue
Minden, Nevada 89423
775.392.1606
http://www.esquaredc.com