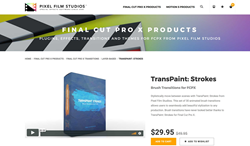 This FCPX Transition comes with realistic brush animations.
Aliso Viejo, CA (PRWEB) August 31, 2017
Stylistically move between scenes with TransPaint Strokes from Pixel Film Studios. This set of 30 animated brush transitions allows users to seamlessly add beautiful stylization to any production. Brush transitions have never looked better thanks to TransPaint Strokes for Final Cut Pro X.
Each preset in TransPaint Strokes contains a random selection of twelve brush stroke types that wipe across the screen to reveal new footage. Each brush stroke is completely realistic and they come in a variety of different styles.
TransPaint Strokes is a Final Cut Pro X transition package that includes 30 unique presets. Choose between presets with either 3 or 6 brush animations. The three animation presets take about one second to animate at standard speed while the six brush stroke presets are for slightly longer transitions.
Manipulate the Tint, Brightness and Contrast of each brush layer using controls in the inspector window. Choose a color for the tint using a color picker and adjust the Tint Amount slider to manipulate the intensity. Brightness and Contrast can both be altered using sliders .
By the end of the transition, TransPaint Strokes dissolves the first scene into the next. Dissolve Layer controls are provided so that users have the upmost control. Adjust the Blur, Brightness and Bulge to create new and interesting looks when transitioning with TransPaint Strokes.
Established in 2006, Aliso Viejo, California-based Pixel Film Studios is an innovative developer of visual effects tools for the post-production and broadcast community. Their products are integrated with popular non-linear editing and compositing products from Apple FCPX. Apple, the Apple logo, Mac OS X, and Macintosh are registered trademarks of Apple Inc. in the U.S. and/or other countries. All other trademarks and trade names are the property of their respective owners.