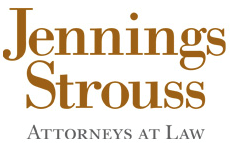 Jennings, Strouss & Salmon, a leading Phoenix-based law firm, is proud to announce that 32 of its lawyers have been named in the 2018 edition of Best Lawyers in America©
PHOENIX (PRWEB) September 05, 2017
Jennings, Strouss & Salmon, a leading Phoenix-based law firm, is proud to announce that 32 of its lawyers have been named in the 2018 edition of Best Lawyers in America©.
The organization has published its rankings for more than three decades. Its review process involves peer sanctioning based on professional expertise, as well as each candidate undergoing an authentication process to ensure they're in current practice and good standing. Lawyers on the Best Lawyers in America© list are divided by geographic region and practice areas.
Recognition for Jennings, Strouss & Salmon attorneys came in a wide range of diverse practice areas, including banking, construction, corporate, energy, family, finance, health care, patent, real estate, tax, and insolvency and reorganization law.
Capital markets, legal malpractice, municipal, trust and estates, ethics and professional responsibility, and public finance law were also included as prime listings.
In terms of litigation, municipal, commercial, real estate, banking and finance, and construction were all represented, as well as mediation and arbitration.
The listings indicate the broad experience of Jennings, Strouss & Salmon attorneys, across a variety of different fields. For the full list of attorneys recognized, as well as a more detailed listing of the practice areas described above, please visit http://jsslaw.com/news_detail.aspx?id=561.
About Jennings, Strouss & Salmon, PLC
Jennings, Strouss & Salmon, P.L.C., has been providing legal counsel for 75 years through its offices in Phoenix and Peoria, Arizona; and Washington, D.C. The firm's primary areas of practice include advertising and media law; agribusiness; automobile dealership law, bankruptcy, reorganization and creditors' rights; construction; corporate and securities; employee benefits and pensions; energy; family law and domestic relations; health care; intellectual property; labor and employment; legal ethics; litigation; professional liability defense; real estate; surety and fidelity; tax; and trust and estates. For additional information please visit http://www.jsslaw.com and follow us on LinkedIn, Facebook, and Twitter.
The firm's affiliate, B3 Strategies, assists clients with lobbying and public policy strategy at the local, state, and federal levels. For more information please visit http://www.b3strategies.com.