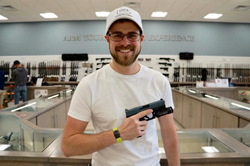 Frederick, MD (PRWEB) September 05, 2017
Heritage Training and Shooting Center, a full-service, personal protection training facility, shooting range, and firearms retail store, is donating $1458 to the Wounded Warrior Project. This money was raised through a firearm raffle to celebrate Heritage's second anniversary.
Heritage Training and Shooting Center's General Manager, Seth Gordon, wanted to find a way to celebrate Heritage's second Anniversary while giving back to the community.
"We've been in operation for two years now," Gordon said, "and we felt that we should do something special to show our customers how important they are to us."
Heritage decided to hold a Customer Appreciation Month for the entire month of August consisting of a series of free clinics, fun-themed targets, Marksmanship Game Sessions, and the firearm raffle.
"We have a good base of customers and employees that are prior or current military," said Albi Kokona, Range Manager, "I was pretty ecstatic about the decision to donate to the Wounded Warrior Project," Kokona also serves as an Officer in the Army Reserves.
Heritage collaborated with Antietam Firearms in Funkstown, MD and The Glock Store to create a one-of-a-kind Glock 19 complete with the Heritage logo, color scheme and anniversary date.
Customers paid $5 for a target to participate in the raffle. All proceeds from the target were donated to the Wounded Warrior Project. Heritage also gave away gift cards as part of the raffle valued at $250, $100, $50, and $25 in addition to the custom Glock firearm.
The drawing was held Saturday, September 2. The winner of the custom firearm was Chris Hines. The winner of the giftcards were Duke Hoffman, Jason West, James Moffitt, and Scott Hill.
Heritage Training and Shooting Center is located at 4537 Metropolitan Court in Frederick, Maryland. With state-of-the art shooting ranges, technologically advanced classrooms, TI Simulator, a firearms retail store, and rental area. Heritage has everything you need to meet your personal protection goals.
For more information, visit their website: http://www.heritagetrainingcenter.com or call 240-341-4006.
"Defense is Personal"