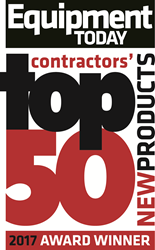 Equipment Today's Contractors' Top 50 New Products awards represent the leading edge of innovation, quality, efficiency and environmental conservation in the construction equipment field today.
Fort Atkinson, WI (PRWEB) September 07, 2017
Equipment Today magazine announced 2017's highest-rated construction products as it unveiled the 2017 Contractors' Top 50 New Products awards, sponsored by the magazine in partnership with ForConstructionPros.com. Winning products represent the leading edge of innovation, quality, efficiency and environmental conservation in the construction equipment field today.
Equipment Today and ForConstructionPros.com used feedback from construction equipment owners and operators to identify the most intriguing new products featured in the publication over a 12-month period (May 2016 to April 2017). The recipients of the awards are organized into eight categories based on product type or application.
The following products were selected as the 2017 Contractors' Top 50 New Products:
ATTACHMENTS
Digga Mini Loader 1MDS2 and 1MDS4 Auger Drives
Leading Edge Fang Rake
Loftness Carbide Cutter G4 Mulching Head Attachment
SlatTrax Ground Protection System
Vacuworx SL 2 Subcompact Vacuum Lifting System
Worksaver 36-Series Snow Pushers
EARTHMOVING
Bobcat T595 Compact Track Loader
Case SV340 Skid Steer
Caterpillar D3K2 Mulcher
Gehl 650 and 750 Articulated Loaders
Hitachi ZX135US-6 and ZX245USLC-6 Ultrashort Excavators
JCB 260T Compact Track Loader
John Deere Large Frame G Series Loaders
SDLG Tier 4 Final Wheel Loaders
Takeuchi TB2150 Hydraulic Excavator
Wacker Neuson Medium-frame Skid-steer and Compact Track Loaders
LIFT EQUIPMENT
Genie SX-105 XC and SX-125 XC Telescopic Boom Lifts
JLG X770AJ Compact Crawler Boom
Liebherr LRT 1090-2.1 and LRT 1100-2.1 Rough-terrain Cranes
Skyjack SJIII 4740 Electric Scissor Lift
PARTS & SERVICE
Bore Repair Systems BOA-408i Bore Welding System
Briggs & Stratton Vanguard Big Block EFI Engine
Cummins 2017 GHG-certified Engines
Eaton GH100 and GH101 Biodiesel Hose
ROAD BUILDING
BOMAG Cedarapids CR662RM RoadMix MTV/Paver
Diamond Road Smoother
Dragon Asphalt Mixer
GOMACO G+ Remote Control
Wirtgen W 35 Ri Milling Machine
TECHNOLOGY
3D Robotics Site Scan Aerial Analytics Platform
Con-Cure NEX Concrete Monitoring System
GSSI PaveScan RDM Asphalt Density Assessment Tool
Topcon 3D-MC MAX Machine Control System
Trimble Spectra Precision LT52 Point and Crossline Laser
TRUCKS
American Eagle Heavy-duty Aluminum Drawers
A.R.E. Truck Cap Options for 2016 Nissan Titan XD
Chevy Silverado HD with Duramax 6.6L Diesel
Crysteel Paradox and Raptor Series Dump Bodies
Ford F-150 Pickup Truck
Minimizer Fast Flaps
Nissan Titan Single Cab
Venturo VC750FB Van Crane
VMAC Direct Transmission-mounted, PTO-driven Air Compressor
Western Star 6900XD Offroad MBT-40
WORKSITE EQUIPMENT
Barreto RTK Stand-On Track Trencher
BN Products BNCE-50 Cutting Edge Saw
Generac MLT6S Mobile Light Tower Family
Chicago Pneumatic MV 58A Forward Asphalt Plate Compactor
Somero S-10A Laser Screed Machine
Whelen Pioneer LiFe LF35 Area Light
Additional information on the winning products can be found in the September issue of Equipment Today and on ForConstructionPros.com/Equipment.
Equipment Today magazine – with 53 years in the publishing industry – is the commercial contractor's leading equipment information resource. ForConstructionPros.com is the construction industry's #1 web portal. Equipment Today and ForConstructionPros.com are properties of AC Business Media.
Construction professionals can follow construction news via Twitter (twitter.com/4ConstructnPros; twitter.com/EquipmentToday) and Facebook (facebook.com/ForConstructionPros; facebook.com/EquipmentToday).
About AC Business Media
AC Business Media is a leading B2B media and business intelligence company with a portfolio of renowned brands in heavy construction, asphalt, concrete, paving, rental, sustainability, landscape, manufacturing, logistics and supply chain markets. AC Business Media delivers relevant, cutting-edge content to its audiences through its industry-leading digital properties, trade shows, videos, magazines, webinars and newsletters and provides advertisers the analytics, data and ability to reach their target audience.