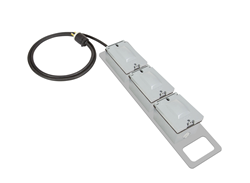 This SOOW extension cord is an ideal cord for operators who need to provide ground fault protection in a remote location.
Kemp, TX (PRWEB) September 08, 2017
Industrial lighting leader, Larson Electronics, has announced the release of a brand new two foot SOOW linecord with a GFCI duplex outlet, designed for heavy duty and outdoor applications, allowing operators to provide ground fault protection in outdoor or remote locations.
The EXC-2-10.5-L21.30P-6X5.20R linecord is a 2' SOOW extension cord that is constructed of 10-guage-5-conductor wire, that features a 30-amp rated NEMA L21-30P cord cap, as well as three GFCI protected duplex outlets, making this cord ideal for outdoor environments. This SOOW linecord is flexible, chemical and abrasion resistant and allows operators to power their 120 Volt equipment from just a single system. Operators can connect their 208Y/120 volt line-in power to the 10/5 SOOW cord on the primary side. On the secondary side 120 volt equipment is connected with 3 5-20R GFCI projected duplex receptacles with weatherproof covers. A back mounted plate with carrying handles allows this unit to be transported easily to and from work sites.
This 6 outlet linecord provides operators with a safe and effective way to extend and power a variety of devices for plant maintenance, power generators, construction and other temporary applications. This industrial extensor cord is popularly used in applications where external power sources are necessary. This GFCI protected linecord system is ideal for indoor or outdoor use and applications including but not limited to, generators, construction sites, plant maintenance, plant turnarounds, shows, exhibits, industrial equipment, uninterruptible power supplies (UPS battery backups), stage equipment, and shipyard operations.
"This SOOW extension cord is an ideal cord for operators who need to provide ground fault protection in a remote location," said Rob Bresnahan, CEO of Larson Electronics LLC. "The rugged build and GFCI protection makes it a flexible and durable source to power 120 systems and equipment, in remote or temporary locations that don't have ready access to the grid."
About Larson Electronics LLC: Larson Electronics LLC is a manufacturer of industrial lighting equipment and accessories. The company offers an extensive catalog of industry-grade lighting and power distribution products for the following sectors: manufacturing, construction, food processing, oil and gas, military, marine and automobile. Customers can benefit from the company's hands-on, customized approach to lighting solutions. Larson Electronics provides expedited service for quotes, customer support and shipments.
High Resolution Image 1-EXC-2-10.5-L21.30P-6X5.20R
Product Cut Spec Sheet-EXC-2-10.5-L21.30P-6X5.20R