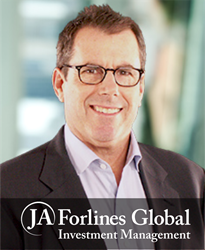 Bob Shea has long been instrumental in product development, tactical strategy, and idea generation crucial to JFG's model construction.
LOCUST VALLEY, NY (PRWEB) September 06, 2017
JAForlines Global (JFG) announces that Robert Shea, a long-time senior member of the JFG portfolio management team, will assume the role of CEO and Co-Chair of the Investment Committee as of September 5, 2017. Bob has long been instrumental in product development, tactical strategy, and idea generation crucial to JFG's model construction. He keenly understands industry relationships and he will make a significant contribution to JFG's long-term growth and success.
Bob Shea's new CEO role, working with Chairman and CIO John Forlines III, adds senior leadership capacity to support rapidly expanding relationships in JFG's Advisor and Broker Dealer channels. John will continue to focus on portfolio research, strategic partnerships, and provide leadership and education to Advisors.
Bob and team will work to capitalize on the exciting momentum the firm enjoys today as Envestnet's 2016 Strategist of the Year and as the driving force behind its 5-Star-rated mutual fund. JFG's four risk managed Global Tactical Allocation portfolios are available at Envestnet and other platforms. All four portfolios are included in Envestnet PMC's highly exclusive Strategist Select List which represents their "best ideas" solutions.
Bob Shea is a former partner at Goldman Sachs and was a founder and CIO of AsiaSource Capital, a partnership based in the U.S. and Singapore. He spent 14 years at Goldman Sachs as a partner in charge of cash equity and sector based proprietary trading, and also served as a member of Goldman's Equity Division Risk and Global Trading Committees. In addition, he was a member of NASDAQ's Quality of Markets Committee. Prior to Goldman Sachs, Bob spent five years as a senior equity trader at First Boston.
John Forlines III is Chairman and CIO of JAForlines Global and portfolio manager of the American Independence JAForlines Global Tactical Allocation Fund (RMA). He is also a noted Behavioral Finance expert and Professor of Behavioral Finance in the Economics Department at Duke University. Learn more about our leadership team here.
About JAForlines Global
JAForlines Global (JFG) is a New York-based investment management company specializing in investment advisory services to clients of select Broker Dealers, Independent RIAs, and their Registered Representatives. JFG specializes in constructing actively indexed portfolios using Exchange-Traded Funds (ETFs), which are available via Managed Account, Mutual Fund, and Collective Investment Trust. Learn more at http://www.jaforlines.com.
*The American Independence JAForlines Global Tactical Allocation Fund Class I received a Morningstar 5-Star rating for the 3-year period ending June 30, 2017 among 247 funds.
Important information and disclosures
Past performance is no guarantee of future results. The material contained herein as well as any attachments is not an offer or solicitation for the purchase or sale of any financial instrument. It is presented only to provide information on investment strategies, opportunities and, on occasion, summary reviews on various portfolio performances. Returns can vary dramatically in separately managed accounts as such factors as point of entry, style range and varying execution costs at different broker/dealers can play a role. The material contains the current opinions of the author, which are subject to change without notice. Statements concerning financial market trends are based on current market conditions, which will fluctuate. References to specific securities and issuers are for illustrative purposes only and are not intended to be, and should not be interpreted as, recommendations to purchase or sell such securities. Forecasts are inherently limited and should not be relied upon as an indicator of future results. There is no guarantee that these investment strategies will work under all market conditions, and each advisor should evaluate their ability to invest client funds for the long-term, especially during periods of downturn in the market.
Some products/services may not be offered at certain broker/dealer firms.
The American Independence JAForlines Global Tactical Allocation Fund Class I received a ¬¬5-Star rating for the 3-year period ending June 30, 2017 among 247 funds. Morningstar Peer Group Ranking is the Institutional Class only; other classes may have different performance characteristics. The Overall Morningstar Rating for a fund is derived from a weighted average of the risk-adjusted returns associated with its three-, five-, and ten-year (if applicable) Morningstar rating metrics. For each fund with at least three-year history, Morningstar calculates a Morningstar Rating Risk-Adjusted Return measure that accounts for variations in a fund's monthly performance (including the effects of sales charges, loads, and redemption fees), placing more emphasis on downward variations and rewarding consistent performance. The top 10% of funds in each category receive 5 stars, the next 22.5% receive 4 stars, the next 35% receive 3 stars, the next 22.5% receive 2 stars, and the bottom 10% receive 1 star. (Each share class is counted as a fraction of one fund within this scale and rated separately, which may cause slight variations in the distribution percentages.) Morningstar rating is for the Institutional Class only; other classes may have different performance characteristics.
JAForlines Global was awarded the 2016 SMA Manager of the Year for the Strategist category. This was the 12th annual award ceremony and the second year for the strategist category. Envestnet | PMC presented 11 SMA Manager of the Year awards. The categories were Large Cap US Equity, Small and Mid-Cap US Equity, International or Global Equity, Fixed Income, Strategist, Impact, Specialty, and Overall Manager of the Year. Each category has one winner, with the exception of Large Cap US Equity and Small and Mid-Cap US Equity, which has 2 winners. JAForlines Global was only considered in the strategist category and this was the first year they were considered.
The award was based on composite performance and not representative of the performance of any single client. Each individual client experience was dependent on a number of factors and it should not be assumed that the receipt of this award implies or is representative of any client experience or approval of JAForlines. Additionally, there is no assurance that favorable performance will be experienced in the future. Full composite performance information is available upon request.
The award finalists and winners were chosen using the systematic, proprietary, and multi-factor evaluation methodology developed by Envestnet | PMC's Premium Research Solutions, a leading source of investment manager due diligence and research applications for advisors. Its evaluation framework considers performance, firm profile, customer service, investment process and style, composite, tax efficiency, and other quantitative and qualitative criteria.
JAForlines Global was eligible for the award since their portfolios are reported through PMC's PrimaGuide research application, they manage more than $200 million in assets, and their management team has more than 3 years of experience. JAForlines Global did not pay a fee to be included in the SMA awards.
Disclosures
The above invitation should not be interpreted as investment advice or a recommendation to buy, sell, or hold any particular security. All investments involve risk including the loss of principal. By investing in ETFs, an investor will indirectly bear the fees and expenses charged by the ETFs in addition to other fees and expenses an investor will incur by investing in the American Independence JAForlines Global Tactical Allocation Fund (the "Fund"), such as advisory, brokerage commissions and custody.
Investing in the Fund involves risk. Equity securities are more volatile and carry more risk than other forms of investments. There is no assurance that the Fund, or the underlying ETFs the Fund may utilize, will achieve their objectives.
General ETF Risk. The cost to a shareholder of investing in the Fund may be higher than the cost of investing directly in ETF shares and may be higher than other mutual funds that invest directly in equities. You will indirectly bear fees and expenses charged by the ETFs in addition to the Fund's direct fees and expenses.
Emerging Markets Risk. The Fund may invest in foreign securities that may include securities of companies located in developing or emerging markets, which entail additional risks, including: less social, political and economic stability; smaller securities markets and lower trading volume, which may result in less liquidity and greater price volatility; national policies that may restrict securities investment opportunities, including restrictions on investments in issuers or industries, or expropriation or confiscation of assets or property; and less developed legal structures governing private or foreign investment.
For a complete list of fund risks, please see the prospectus.
Performance data quoted represents past performance. Past performance does not guarantee future results. Investment return and principal value will fluctuate so that an investor's shares, when redeemed, may be worth more or less than their original cost. Current performance may be lower or higher than the performance data quoted.
You should consider the Fund's investment objectives, risks, charges, and expenses, carefully before you invest or send money. Information about these and other important subjects is in the Fund's prospectus. The prospectus and, if available, the summary prospectus should be read carefully before investing.
Shares of the American Independence Funds and Rx Funds are distributed by Matrix Capital Group, Inc., which is not affiliated with RiskX Investments, LLC or J.A. Forlines, LLC.
Not FDIC Insured. May Lose Value. No Bank Guarantee.