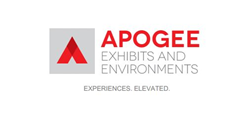 President and CEO Mark Taylor states: "Our client's faith in us and our mutual successes and growth have allowed us to re-invest in our company and further develop invaluable new capabilities across all areas of our business."
Rochester, NY (PRWEB) September 08, 2017
Apogee Exhibits and Environments, a trade show exhibit solutions provider in Upstate New York, announced this week that it has officially changed its name to Apogee Exhibits. As a former dealer for a brand named portable modular manufacturer, Apogee's extensive re-branding effort allows the company to re-focus their efforts on providing cost-effective exhibit and environment solutions in both a custom as well as portable/modular platform. The organizational re-brand is also part of a new concentration on permanent branded environments and digital solutions.
President and CEO Mark Taylor states: "This name change is the result of an extensive re-branding effort to mirror the success and transformation of our organization, in large part due to the combined successes of our staff on behalf of our clients. The name Apogee is defined as "the highest point in the development of something, the climax or culmination". We chose apogee not as the definition of our organization but rather, the goal we need to aspire to in helping our clients reach the highest point attainable in their trade show marketing and brand building efforts. Over the past several years, our company has evolved amidst a dynamic, ever-changing exhibition industry. During that time, we've identified a need to be more and offer more to our clients. Our client's faith in us and our mutual successes and growth have allowed us to re-invest in our company and further develop invaluable new capabilities across all areas of our business."