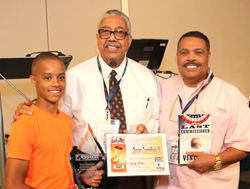 "I am honored to receive this amazing award named for an amazing baseball commissioner. I am even happier to contribute to the organization that keeps the recognized memories of these great and unsung baseball heroes alive" Charles E. Crutchfield III, MD
Eagan, Minnesota (PRWEB) September 14, 2017
On Saturday, July 29th, 2017, at the 20th Annual Jerry Malloy Negro League Conference, in Harrisburg, Pennsylvania, Charles E. Crutchfield III, MD was awarded the Fay Vincent Most Valuable Partner (MVP) Award, by Larry Lester, chairman of the Society for American Baseball Research (SABR) Negro Leagues Committee.
The Fay Vincent Most Valuable Partner (MVP) Award is in honor of FAY VINCENT, Major League Baseball
Commissioner from 1989 to 1992. Mr. Vincent was instrumental, along with National League President Len Coleman, and former Brooklyn Dodgers pitcher Joe Black, in the development of a comprehensive healthcare plan and retroactive pensions for Negro League veterans.
An avid supporter of promoting Negro League history, Vincent chaired the special Hall of Fame committee that elected a record 17 former players and executives to Cooperstown immortality in 2006. Earlier, in 2002, he donated royalties to former Negro Leaguers from his first book, "The Last Commissioner."
Vincent also contributed funds to purchase headstones for unmarked graves and quietly provides financial assistance to Negro League legends in need.
We present this MVP award to name for his work in promoting the mission of the MALLOY CONFERENCE which encourages the study and research of African American baseball and its influence on society, sports history, and breaking racial barriers, thus promoting the legacy of Commissioner Francis T. Vincent, Jr.
Charles E. Crutchfield III, M.D. was honored, in part, for his time and financial support of the conferences many scholarships for students who write essays on great players of the Negro Leagues, including the Jimmie Crutchfield scholarship, keeping the memory alive and honoring those many unsung Negro League heroes. Additionally, Dr. Crutchfield III he has contributed significantly to the history of the league by producing over 125 paintings of Negro league players to be viewed at http://www.CrutchfieldCardCompany.com.
At the same event, his father, Charles E. Crutchfield Sr. M.D. was given the 'Tweed Webb Lifetime Achievement Award' for promoting the goals of the conference and supporting the Jimmie Crutchfield Scholarship Award.
Both Drs. Crutchfield are first cousins, once and twice removed, respectively, of the great Negro League ballplayer, Jimmie Crutchfield.
About Charles E. Crutchfield III, MD:
Charles E. Crutchfield III, M.D. is a graduate of the Mayo Clinic Medical School and a Clinical Professor of Dermatology at the University of Minnesota Medical School. Dr. Crutchfield is an annual selection in the "Top Doctors" issue of Mpls. St. Paul magazine. He is the only dermatologist to have been selected as a "Best Doctor for Women" by Minnesota Monthly magazine since the inception of the survey. Dr. Crutchfield has been selected as one of the "Best Doctors in America," an honor awarded to only 4% of all practicing physicians. Dr. Crutchfield is the co-author of a children's book on sun protection and dermatology textbook. He is a member of the AΩA National Medical Honor Society, an expert consultant for WebMD and CNN, and a recipient of the Karis Humanitarian Award from the Mayo Clinic School of Medicine. Dr. Crutchfield was also given "first a physician" award, Helathcare Hero, 100 most influential, and one of the Top 100 African –American Newsmakers in the United States by theGrio, an affiliate of NBC News. https://en.wikipedia.org/wiki/Grio_Awards
Crutchfield Dermatology is a proud member of Doctors for the Practice of Safe and Ethical Aesthetic Medicine (DPSEAM). http://www.SafeAndEthicalDoctors.org