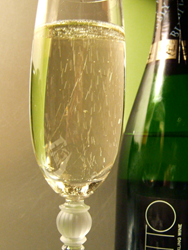 Proper dental hygiene and care is really the key to long term oral health
Beverly Hills, California (PRWEB) September 14, 2017
A September 1st article on Metro describes how representatives of the Italian government are responding in a fairly blunt manner to British newspaper coverage of charges that prosecco, a popular sweet sparkling wine, was doing a great deal of damage to English teeth. Los Angeles Area dental clinic Smile Boutique Beverly notes that, yes, it's clear that all kinds of carbonated drinks with sugar can be harmful to teeth, particularly if consumed in too large an amount. The clinic adds, however, that focusing too much on any one particular item of food or drink is probably unhelpful, and not just because it can spark a minor international incident; it may obscure that fact that a great many frequently consumed sugar-laden foods and drinks can spark severe tooth decay. The dental office adds that the English dentist who coined the term "prosecco teeth" might just as easily have taken aim at some of England's other most popular gustatory vices with "Cadbury teeth" or "jam teeth." The clinic adds that proper dental hygiene and care is really the key to long term oral health; even healthy, low-sugar foods can harm teeth if individuals fail to care for their teeth.
Smile Boutique Beverly Hills notes that the support of a full service dental clinic can be essential for such matters as the regular dental check-ups and examinations needed to maintain appropriate oral health. At the same time, a comprehensive dental clinic can also help with repairing or even replacing teeth that have been compromised. Even in cases where patients' teeth are fully functional, but not as bright and attractive as some might like, cosmetic dentistry can change a great deal. From making dental fillings to deal with cavities, to root canals to save teeth that have been seriously damaged, to dental implants to replace teeth that have been removed, the dental clinic notes that, even after individuals really have damaged their teeth with poor habits, there's much that can be done to restore attractive and healthy smiles.
Smile Boutique Beverly Hills adds, that when it comes to food and beverage choices, that there are many outstanding health reasons to avoid consuming excessive sugar, definitely including preventing painful and potentially tooth and gum problems. They add that, while looking at our diet is certainly an important part of maintaining our oral health, proper ongoing dental care and hygiene are perhaps even more important.
Interested readers who would like to learn more about what Smile Boutique Beverly Hills can do for them are invited to call (424) 281-0959 or they may visit the clinic's website at http://smileboutiquebeverlyhills.com/.