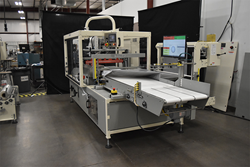 WASHINGTON, Mo. (PRWEB) September 07, 2017
Texwrap, powered by Pro Mach, introduces at Pack Expo, September 25-27, the Auto-Mailer 2410, a smart high-speed e-commerce fulfillment system for lowering labor and reducing shipping and materials costs when bagging apparel, accessories, household goods, and items. The Auto-Mailer 2410 is one of several innovative bagging, shrink wrapping, and bundling systems on display at the Texwrap and Tekkra exhibit (Pack Expo Booth # C-2825).
The Texwrap Auto-Mailer 2410
The Auto-Mailer 2410 differs from other all-in-one polybag packaging and labeling systems in its ability to create custom bags for each product, which is based on the product's width, height, and length. With the ability to calculate height, the Auto-Mailer 2410 creates a better fitting shipping bag and minimizes polyethylene film consumption on almost every product packaged. Because of its advanced features, this Texwrap system decreases material usage and maximizes efficiency for end-of-line mailer fulfillment.
As well as optimizing polyethylene film consumption, the high-speed Texwrap Auto-Mailer 2410 enables e-commerce operations to lower dimensional weight (DIM) charges by transitioning from boxes to bags while minimizing the labor input required, achieving up to 20 packages per minute throughput. This machine is built for 24/7 operation and features a host of easy to operate and maintain features. The Auto-Mailer 2410 can bag an exceptionally wide range of products starting as small as 2 inches wide by 4 inches long, and going up to as large as 24 inches wide by 10 inches high and any length.
The Tekkra 5130 continuous motion bundler for high-speed operation
The Tekkra 5130, the latest iteration in the 5100 series of continuous motion bundlers, is a small footprint machine that delivers high-speed, flexibility, ease of operation, and optimum uptime for increased throughput. Key features of the 5130 include:

Tekkra servo design for more consistent and stronger seals, increased speed, and less wear on seal bar parts
Optional bottom air flow for tighter bundles
Pivot film splicing and straight through film threading for faster changeover
All hardened stainless-steel shafts for extended service life
Compact size designed to allow the machine to be rolled through a 36-inch-wide door
The Texwrap 2011 continuous motion horizontal side seal shrink wrapper
The 2011 is Texwrap's continuous motion side seal shrink wrapper for applications demanding high throughput speeds with maximum package flexibility. With standard auto spacing control, horizontal as well as vertical photo eyes, and the ability to precisely vary conveyor speeds to relax the film between products, the 2011 can accommodate randomly fed or choke-spaced product and accurately separate them for reliable, consistent packages using the absolute minimum amount of film.
The Texwrap 2215 Spartan for simple, easy to operate automated shrink wrapping
Texwrap developed the 2215 Spartan for packing, co-packing, and fulfillment operations that want to cost-effectively step up from manual to automated shrink wrapping. The 2215 Spartan sets the standard in entry-level machines in terms of speed, ruggedness, dependability, and ease of operation and maintenance. The U.S. built Spartan features:

Heavy steel-frame construction with durable powder-coat finish
Maximum film/belt speed capable of 80 feet per minute for high throughput
115-volt AC power for use of standard wall outlets
New eye-level, easy-reach film scrap winder with film break alarm for convenient operation
Motion trim control allowing for higher production speeds
Be sure to stop by the Texwrap and Tekkra Booth # C-2825 to see these machines and learn more about the group's ability to be a single source supplier of reliable, high-speed, small footprint, and easy-to-use e-commerce bagging, shrink wrapping, and bundling solutions. Call 800-886-7421 and visit http://www.texwrap.com for more information.
About Texwrap and Tekkra – Pro Mach Shrink Systems Group
Texwrap and Tekkra e-commerce, shrink wrapping, and bundling solutions are engineered for ease-of-use, reliability, and longevity. Every system from the standard entry level products to high speed custom systems will run for many years with the absolute lowest total cost of operation of any system on the market today. For more information, visit http://www.texwrap.com.
About Pro Mach
Pro Mach is a leading provider of integrated packaging and processing products and solutions for food, beverage, consumer goods, pharmaceutical, and other diverse companies. Through multiple brands, Pro Mach provides product packaging and processing equipment, PMMI certified trainers, installation, parts, and service in Bottling & Capping, Primary Packaging, Pharmaceutical Packaging, Flexible Packaging, Material Handling, Labeling & Coding, and End of Line, as well as Integrated Solutions for complete packaging lines.
Pro Mach has a diverse customer base, from Fortune 500 companies to smaller, privately held businesses worldwide, which depend on reliable, flexible, technologically advanced equipment and integrated solutions. Pro Mach is headquartered near Cincinnati, Ohio, with manufacturing facilities and offices throughout the United States, Canada, Mexico, Europe, United Arab Emirates, and China. For more information about Pro Mach, please visit http://www.promachinc.com.