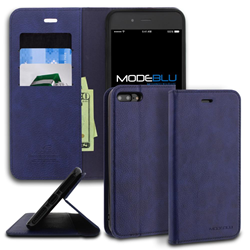 Santa Fe Springs, CA (PRWEB) September 11, 2017
ModeBlu, an emerging brand dedicated to delivering state-of-the-art smartphone cases, has just announced the launch of their new Magnetic Portfolio Case Series. These innovatively designed two-in-one cases are available in four variants, suitable for iPhone 6S, 6S Plus, 7, and 7Plus.
ModeBlu is pleased to announce the official launch of their new and advanced range of phone covers for the users of the latest iPhone models. The company's latest creation, ModeBlu Magnetic Portfolio Case Series, is a two-in-one case featuring a removable slim case held to the wallet cover via magnets. The series is comprised of four different versions for iPhone 6S, 6S Plus, 7, and 7Plus, and can be purchased for a bargain price of $11.99 only.
Ever since the inception of the company four years ago, ModeBlu has repeatedly caught the attention of smartphone users by offering them an exciting and fashionable range of phone cases that stand out from hundreds of typically unimpressive products available on the market. The small team of highly creative artists and designers at ModeBlu specialize in creating affordable phone cases that are designed to take different individual tastes and preferences into consideration.
Some of the top features of the company's new iPhone 6S, 6S Plus, 7, and 7Plus wallet cases include

Three card slots and a slot for paper currency
Magnetic TPU case to remove and re-attach to wallet cover
Folding media stand for the users to watch their favorite media
Precisely measured and manufactured to offer complete access to all the functions of the phone
Made from high-quality PU Leather and TPU
Highlighting the quality of the company's new iPhone 7 plus wallet case, the Director of E-commerce at ModeBlu, David Lee stated, "The ModeBlu magnetic portfolio case is a hybrid case featuring the best of two worlds. A wallet case which lets you carry some cards and a bit of cash for a night out, and also a removable slim case for times when you don't need a wallet case. We feel this combination of a wallet and slim type case will offer more convenience and options to stylize your smartphone."
Please visit the following links to find out more about ModeBlu Magnetic Portfolio Case Series.
iPhone 6S wallet case
iPhone 6S Plus wallet case
iPhone 7 wallet case
iPhone 7 plus wallet case
About ModeBlu:
ModeBlu is a rapidly expanding brand dedicated to delivering world-class smartphone cases that are affordable, functional, and stylish. Within a relatively small lifespan, the company has already managed to grab the attention of the smartphone users with their innovative range of products.
Contact:
Website: https://modeblu.com/
Email: David(at)modeblu(dot)com