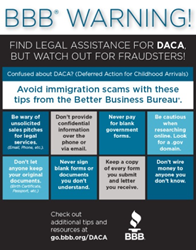 Arlington, VA (PRWEB) September 07, 2017
The Better Business Bureau has issued a BBB Warning about potential fraud surrounding this week's announcements about DACA (Deferred Action for Childhood Arrivals). BBB does not take political positions or offer legal advice, but expects to see scammers using confusion over DACA to their advantage in the coming weeks and months.
Tips on finding legal assistance and avoiding scams is available at go.bbb.org/DACA, along with links to free and low-cost legal services. The information is available in both English and Spanish.
Go to go.bbb.org/DACA for more information.
-30-
ABOUT BBB: For more than 100 years, the Better Business Bureau has been helping people find businesses, brands and charities they can trust. In 2016, people turned to BBB more than 167 million times for BBB Business Profiles on more than 5.2 million businesses and Charity Reports on 11,000 charities, all available for free at bbb.org. The Council of Better Business Bureaus is the umbrella organization for the local, independent BBBs in the United States, Canada and Mexico, as well as home to its national and international programs on dispute resolution, advertising review, and industry self-regulation
MEDIA CONTACTS: For more information, journalists should contact Katherine Hutt (703-247-9345 or khutt@council.bbb.org).