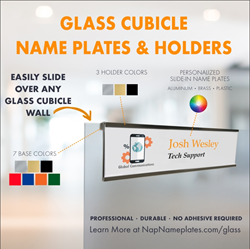 The holders are easily installed and removed, and personalized name plates are simple to slide in-and-out of the holders.
Grand Rapids, MI (PRWEB) September 19, 2017
Nap Nameplates, a Michigan-based manufacturer of custom office name plates and holders, has announced a new line of name plate holders designed for glass cubicle partitions.
These unique name plate holders are made-to-order, fitting a variety of glass partition thicknesses by simply sliding over the top - with no adhesives or any other attachments required.
New, glass cubicle name plate holders are built to last, made of durable, scratch-resistant aluminum, and are available in a range of colors. Both the color of the aluminum base and the color of the actual nameplate holder are customizable to match office decor or an employee's preferred look.
The holders are easily installed and removed, and personalized name plates are simple to slide in-and-out of the holders.
As offices are reorganized or remodeled, or as employees change cubicles, this new design makes it easier than ever to properly label who's who - and help employees take a sense of pride and ownership in their workspace.
While glass partitions look great and help offices feel more spacious, they have previously presented a problem for typical nameplate holders. Older designs required drilling or adhesives, which usually aren't viable options for glass walls.
Nap Nameplate's new model offers the best of both worlds. Holders are available in 10"x2" and 8"x2" designs, with the option to choose the right thickness for your office's glass cubicle partitions.
In addition to the design for glass cubicle walls, Nap Nameplates offers a variety of other "over the wall" designs that don't require adhesives, pins, or Velcro, as well as all types of customizable name plates in brass, aluminum, or plastic. Personalized name plates can be printed in full-color, and include a company logo, or laser engraved for an executive look.
One reviewer said of Nap Nameplates:
"If you are looking for a high quality nameplate holder for your cubicle, Nap makes just that - a quality product... Based on my brief experience with the people there, it appears to be a well-run, top quality outfit."
To learn more about Nap Nameplates, explore glass partition name plate holders, and explore their extensive line of products, visit Napnameplates.com.
About Nap Nameplates
Founded in 2008 by Robert Napieralski, Nap Nameplates is a sister company of NapTags and Nap's Dealer supplies, based in Belmont, Michigan. Robert saw an opportunity to bring jobs and new business to his community, and leads the company with a mission focused on honesty and integrity. Nap Nameplates strives to always innovate while delivering top quality products, providing excellent service to customers and coworkers, and treating every interaction with kindness and respect.