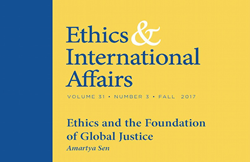 Ethics & International Affairs helps close the gap between theory and practice by publishing work that integrates rigorous thinking about principles of justice and morality into discussions of current practical dilemmas.
(PRWEB) September 12, 2017
Carnegie Council is pleased to announce the publication of the Fall 2017 issue of its journal, "Ethics & International Affairs."
It features Amartya Sen on the foundations of global justice; Amitav Acharya on the multiplex world order; Jamie Gaskarth on rising powers and their conceptions of responsibility; Laura Hartman on the "playing God" critique of climate engineering; Aidan Hehir on improving the responsibility to protect through legal reform; Chris Brown on global poverty alleviation; James Turner Johnson on the ethics of insurgency; and book reviews by Claire Finkelstein, João Nunes, Cheryl O'Brien, and Michael Zürn.
Access the entire issue here: https://www.ethicsandinternationalaffairs.org/2017/fall-2017-issue-31-3/
ESSAYS
Ethics and the Foundation of Global Justice [Full Text Available Online for a Limited Time]
Amartya Sen
After Liberal Hegemony: The Advent of a Multiplex World Order [Full Text]
Amitav Acharya
FEATURES
Rising Powers, Responsibility, and International Society
Jamie Gaskarth
Climate Engineering and the Playing God Critique
Laura M. Hartman
"Utopian in the Right Sense": The Responsibility to Protect and the Logical Necessity of Reform
Aidan Hehir
REVIEW ESSAYS
Poverty Alleviation, Global Justice, and the Real World
Chris Brown
The Ethics of Insurgency
James Turner Johnson
BOOK REVIEWS [All Full Text]
Lawfare: Law as a Weapon of War
Orde F. Kittrie
Review by Claire Finkelstein
Disease Diplomacy: International Norms and Global Health Security
Sara E. Davies, Adam Kamradt-Scott, and Simon Rushton
Review by João Nunes
When Norms Collide: Local Responses to Activism against Female Genital Mutilation and Early Marriage
Karisa Cloward
Review by Cheryl O'Brien
Power Shift: On the New Global Order
Richard Falk
Review by Michael Zürn
Briefly Noted
ABOUT CARNEGIE COUNCIL
Founded by Andrew Carnegie in 1914, Carnegie Council for Ethics in International Affairs is an educational, nonprofit, nonpartisan organization that produces lectures, publications, and multimedia materials on the ethical challenges of living in a globalized world. Go to carnegiecouncil.org