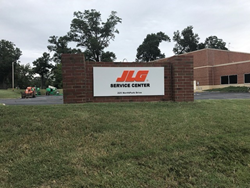 McConnellsburg, Pa. (PRWEB) September 12, 2017
JLG Industries, Inc., an Oshkosh Corporation company [NYSE:OSK], and a leading global manufacturer of aerial work platforms and telehandlers, recently opened a new service center in Rock Hill, South Carolina. JLG® adds its newest 13,800-square-foot, seven-bay facility to the company's existing service centers in Houston, Riverside, California, and Hagerstown, Maryland.
Like the Houston, Riverside and Hagerstown locations, the Rock Hill facility will inspect, maintain, and repair all brands of lift and access equipment at the JLG facility or on location at a customer's jobsite. Services include quarterly and annual ANSI-required aerial work platform inspections, preventive and planned maintenance, and light and heavy repairs. The center also offers mobile service, where factory-trained technicians with fully equipped vehicles visit customer jobsites, for maintenance and repairs.
"Many of our customers are focused on their core construction and rental businesses. They look to JLG as an extension of their service operation to help keep their fleet operating at peak performance," said Jonathan Dawley, JLG Industries global vice president, aftermarket. "By adding locations in key markets, we are better able to meet our customers' needs while providing quicker response times."
In addition to the Charlotte-area service center, JLG plans to add branches in Atlanta and Orlando within the coming year, demonstrating its continued commitment to its customer base. These centers will complement the recent opening of the JLG East Coast Parts Distribution Center in Atlanta, which optimizes parts availability and delivery times to east coast based customers.
In addition to its seven service bays, the new facility features a wash bay and two 15-ton overhead cranes. It sits on 8.7 acres of land, which includes a two-acre equipment storage area.
To learn more about the JLG service offering, visit http://www.jlg.com/en/parts-services/service-center-locations. For more information about JLG, visit http://www.jlg.com.
About JLG Industries, Inc.
JLG Industries, Inc. is a world-leading designer, manufacturer and marketer of access equipment. The Company's diverse product portfolio includes leading brands such as JLG® aerial work platforms; JLG and SkyTrak® telehandlers; and an array of complementary accessories that increase the versatility and efficiency of these products. JLG is an Oshkosh Corporation company [NYSE: OSK]. For more information about JLG Industries, Inc., visit http://www.jlg.com.
About Oshkosh Corporation
Founded in 1917, Oshkosh Corporation is 100 years strong and continues to make a difference in people's lives. Oshkosh brings together a unique set of integrated capabilities and diverse end markets that, when combined with the Company's MOVE strategy and positive long-term outlook, illustrate why Oshkosh is a different integrated global industrial. The Company is a leader in designing, manufacturing and servicing a broad range of access equipment, commercial, fire & emergency, military and specialty vehicles and vehicle bodies under the brands of Oshkosh®, JLG®, Pierce®, McNeilus®, Jerr-Dan®, Frontline™, CON-E-CO®, London® and IMT®.
Today, Oshkosh Corporation is a Fortune 500 Company with manufacturing operations on four continents. Its products are recognized around the world for quality, durability and innovation, and can be found in more than 150 countries around the globe. As a different integrated global industrial, Oshkosh is committed to making a difference for team members, customers, shareholders, communities and the environment. For more information, please visit http://www.oshkoshcorporation.com.
®, ™ All brand names referred to in this news release are trademarks of Oshkosh Corporation or its subsidiary companies.
Forward Looking Statements
This news release contains statements that the Company believes to be "forward-looking statements" within the meaning of the Private Securities Litigation Reform Act of 1995. All statements other than statements of historical fact, including, without limitation, statements regarding the Company's future financial position, business strategy, targets, projected sales, costs, earnings, capital expenditures, debt levels and cash flows, and plans and objectives of management for future operations, are forward-looking statements. When used in this news release, words such as "may," "will," "expect," "intend," "estimate," "anticipate," "believe," "should," "project" or "plan" or the negative thereof or variations thereon or similar terminology are generally intended to identify forward-looking statements. These forward-looking statements are not guarantees of future performance and are subject to risks, uncertainties, assumptions and other factors, some of which are beyond the Company's control, which could cause actual results to differ materially from those expressed or implied by such forward-looking statements.
# # #