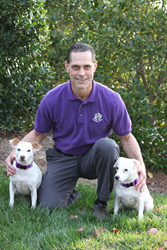 I am thrilled to be involved with Lake Norman Humane not just because of the positive impact we can make on the animals, but also because it gives us both an opportunity to raise public awareness about dog training.
Mooresville, NC (PRWEB) September 12, 2017
When Emily Beebe, Director of Operations at Lake Norman Humane, looks over their waiting list of people who want to surrender their pets, she often wonders… how many of those dogs just need training? Could an obedience class or rehabilitation program turn an unhappy home into a forever home for any of those animals? Now, thanks to a partnership with The Lake Norman Dog Wizard, Beebe knows where to turn when she needs help.
The Lake Norman Dog Wizard, formerly known as The Mooresville Dog Wizard, has partnered with Lake Norman Humane to offer discounted, on-site puppy classes, volunteer training, rescue rehab, aggression rehab and more. The business is locally owned and operated by Doug Woods, who has also become a trusted partner the rescue can call when they need help with a special case or a pet owner calls inquiring about finding a trainer. In fact, The Dog Wizard has even helped turn two of the rescue's toughest cases into awesome pets and helped them find forever families.
"We see people surrender animals every single day – there's a waiting list – and sometimes it's for things that might be able to be fixed with the right training," Beebe said. "I can't rave enough about Doug and the work he does with our animals. There are animals he's worked with who would not have been adoptable without his help and, by offering puppy classes and other training options, he's helping to keep animals out of the shelter in the future. The work Doug has been doing makes a huge difference."
The partnership with Lake Norman Humane also enables The Dog Wizard to cross-promote events and share information about adoptable animals. In the future, he's hoping to implement a program to help educate rescue workers and volunteers on how to establish play groups between shelter animals to keep them active and help avoid kennel aggression, which also makes the dogs more adoptable.
Woods has always loved dogs and had thought about getting into dog training before he found The Dog Wizard Franchise, but he wasn't ready to take the leap into being a business owner. But once he retired from his career in wireless sales and marketing – and got two highly-active Jack Russell Terriers –he saw a future with The Dog Wizard franchise system.
"I had considered maybe going into pet sitting, grooming or dog walking so I could work with pets, but none of those really fit what I was looking for. When I got my boys, who definitely needed training, I started thinking again about becoming a dog trainer," Woods said. "My sister had recently worked with The Dog Wizard in Columbia and she was all fired up about the results. She told me they offered franchises, I called for more information and the rest is history."
Woods officially launched his Dog Wizard franchise in September of 2015. The company offers a wide variety of dog training services, including aggression rehab, baby prep, leash walking, obedience, problem solving, puppy preschool, rescue rehab, separation anxiety and socialization. Since opening two years ago, he's been working hard to spread the word not only about his business, but also about the value of dog training.
"I see so many dogs with issues that could have been prevented with obedience training and an owner who is committed to the program. I am thrilled to be involved with Lake Norman Humane not just because of the positive impact we can make on the animals, but also because it gives us both an opportunity to raise public awareness about dog training. Every dog is going to have their own challenges – just like people – but the right training can help a dog avoid that downward spiral that lands them in a shelter," Woods said.
Beebe agreed and said dog training might seem like something you reserve for troublesome animals, but it's actually an important part of creating a happy home for all people and all their pets. Professional dog training is a gift of love and helps all dogs have better and more relaxing relationships with their families.
"We know that many of the animals that end up in the shelter could be great pets with the right training. Training your pets, even if it's simple obedience training, is an important part of building a happy, healthy relationship between your pet and your family," she said.
The Dog Wizard Franchise is an emerging and successful dog training franchise system based in Charlotte. The company was founded in 2005 by Gretchen Hollifield, who recently partnered with Franchise Funding Group in Cincinnati to accelerate the franchise system's growth and help positively impact more dogs and families throughout America. There are currently 18 franchise locations in the United States.
For more information or to schedule an evaluation for your dog with the Lake Norman Dog Wizard, call 704-625-1061, email info@lakenormandogwizard.com or visit http://www.lakenormandogwizard.com. The Lake Norman Dog Wizard services the Lake Norman area as well as the Concord/Kannapolis area.