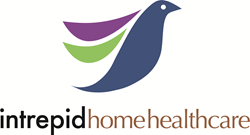 Intrepid is excited about our updated Home Health logo reflecting our goal of delivering state-of-the-art care in the home, the patient preferred, lowest cost setting
Dallas, Texas (PRWEB) September 14, 2017
Intrepid USA Healthcare Services unveiled a new branding initiative for its Home Health division. The new logo redesign symbolizes a commitment to being a top health care provider that continuously works to improve the quality of life for patients, their caregivers and families.
Working with the team at a local creative agency, FreshIdeas Marketing, the goal was to create a new logo that reflected our services while being a visual representation of our mission: to provide exceptional, personalized, patient-centered home health, hospice and private duty services and become the healthcare company of choice within the communities we serve. The new logo is a playful and bright design that features a distinctive bird, which bears a strong resemblance to a finch. The finch is generally thought to symbolize freedom, they can walk on the earth and swim in the sea as humans do but they also have the ability to soar into the sky. We felt that the bird also symbolizes Home Health because while needing home health care is a major life change the aim of home health care is to restore independence.
The new logo maintains the iconic Intrepid colors and the style ties into our Hospice logo, signifying the continuity of care Intrepid offers clients, and does so in a modernized, fresh way.
"Intrepid is excited about our updated Home Health logo reflecting our goal of delivering state-of-the-art care in the home, the patient preferred, lowest cost setting," said Intrepid USA CEO, Paul Foster.
The new branding is visible now, and will be phased out across our geographic footprint. New marketing materials will use the refreshed logo going forward. Existing marketing collateral will continue to use the current logo during the transition period to avoid waste.
Wondering what else Intrepid is up to? Check out the Intrepid blog and stay up to date on the latest news from Intrepid on Twitter and Facebook.
For more information, please visit http://www.intrepidusa.com
About Intrepid USA Healthcare Services
The mission of Intrepid USA, is to improve the quality of life for patients and their families through home health, hospice and private care. Intrepid employs more than 2,000 personnel nationwide and operates 91 locations in 21 states. For more information or to locate an Intrepid Healthcare Office, please visit http://www.intrepidusa.com or call 1-888-800-5311.