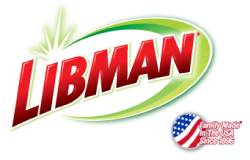 Arcola, Ill. (PRWEB) September 15, 2017
The Libman Company, a leading U.S. manufacturer of household and commercial cleaning products, has sent 2,600 push brooms to aid those affected by Hurricanes Harvey and Irma. The storms have caused unprecedented and catastrophic flooding, and cleanup efforts are expected to take months if not years.
"We extend our heartfelt regards to those affected by Harvey and Irma," said Andrew Libman, president of The Libman Company. "We responded to the Red Cross's request for needed push brooms and coordinated with them to get them to those who need them as they face the long and difficult task of cleaning up," said Libman.
Libman has sent its Smooth Sweep Push Brooms as well as its 24" Multi-Surface Push Brooms from its High-Power line of heavy duty products.
"The Red Cross is extremely grateful for all of the generous contributions we have received to support our lifesaving mission to help those in need," Don Herring, chief development officer of the Red Cross.
To donate to Hurricane Harvey and Irma flood victims, visit http://www.redcross.org.
About The Libman Company
The Libman Company is a family-owned company that has been making quality cleaning tools since 1896. The company manufactures products from brooms and mops to more specialized tools for kitchen and bathroom cleaning and industrial uses. Libman proudly manufactures most of their products in the United States, including the company's well-known Wonder® Mop. For more information about the Libman Company, please visit http://www.libman.com.
# # #