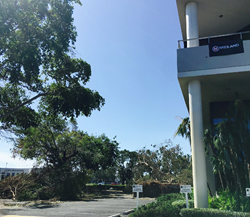 "We are relieved and thankful that our staff and office are okay. We are hoping power will be restored any day now so we can get back to normal."
Fort Myers, Florida (PRWEB) September 17, 2017
Self-Directed IRA Administrator and 1031 exchange Qualified Intermediary, Midland IRA & 1031 survived Hurricane Irma but not FPL, as power has not been restored at the corporate headquarters. Essential personnel are working out of alternative office space and continuing to process client transactions. The Chicago office is fully operational and is handling all calls and emails from clients. All Midland staff are safe and accounted for in Fort Myers,Florida. "We are relieved and thankful that our staff and office are okay. We are hoping power will be restored any day now so we can get back to normal." Says Dave Owens, President and CEO of Midland IRA & 1031.
Midland anticipates to be at full strength with both offices on Monday, September 18th. Please feel free to call Midland at 239-333-1031 with all your self-directed IRA and 1031 exchange questions.
About Midland IRA
Midland IRA is a self-directed IRA administrator that provides tax-deferred and tax-free investment opportunities, superior customer service, and educational tools to assist investors in realizing the maximum benefits possible within IRAs. Midland IRA makes it easy to use self-directed retirement plans to invest in assets that the individual investor knows, understands, and can control. Midland IRA is also a 1031 exchange qualified intermediary. To learn more visit www(dot)MidlandIRA(dot)com.