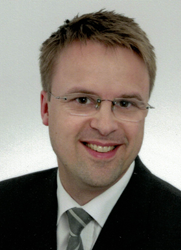 Dr. Varnhagen will present his lecture titled, "Electronic Horizon: A Map as a Sensor and Predictive Control."
WARRENDALE, Pa. (PRWEB) September 18, 2017
Raimund Varnhagen, PhD, Head of Product Group eHorizon & Infotainment Vehicle Electronics, for Continental Automotive GmbH Commercial Vehicles & Aftermarket, will present the 2017 SAE International L. Ray Buckendale Lecture during COMVEC17, which will be held Sept. 18-20 in Rosemont, Ill.
Dr. Varnhagen will present his lecture titled, "Electronic Horizon: A Map as a Sensor and Predictive Control," on Tuesday, Sept. 19 at 4 p.m. in the Kennedy Room of the Crowne Plaza Chicago O'Hare Hotel & Conference Center.
Dr. Varnhagen holds a PhD in Physics from the University of Bonn in Germany. He has been working in the automotive industry for 21 years and especially in the commercial vehicle business for 11 years. The first seven years, he spent at Bosch in research and development of navigation systems leading the department of project management. Since 2003 he has been involved in project management, sales and product management at Continental (former SiemensVDO). Today, he is heading the commercial vehicle product management for Electronic Horizon, Infotainment and Autonomous Driving.
The L. Buckendale Lecture is presented annually at COMVEC. It focuses on automotive ground vehicles for either on- or off-road operation in either commercial or military service. The intent is to provide procedures and data useful in formulating solutions in commercial vehicle design, manufacture, operation and maintenance. Established in 1953, this lecture commemorates the contributions of L. Ray Buckendale, 1946 SAE President. L. Ray Buckendale, by his character and work, endeared himself to all who were associated with him.
COMVEC 17 is the central forum for the community that develops vehicles and equipment spanning the on-highway, off-highway, agricultural, construction, industrial, military, and mining sectors.
For the most up-to-date information about the symposia, panels, and more, please visit sae.org/comvec.
To request media credentials, email pr(at)sae(dot)org or call 1-724-772-8522.
SAE International is a global association committed to being the ultimate knowledge source for the engineering profession. By uniting over 127,000 engineers and technical experts, we drive knowledge and expertise across a broad spectrum of industries. We act on two priorities: encouraging a lifetime of learning for mobility engineering professionals and setting the standards for industry engineering. We strive for a better world through the work of our charitable arm, the SAE Foundation, including programs like A World in Motion® and the Collegiate Design Series™.