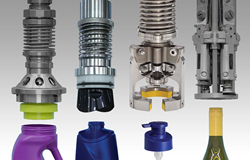 STATHAM, Ga. (PRWEB) September 20, 2017
Zalkin, powered by Pro Mach, showcases at Pack Expo 2017, September 25-27, in Las Vegas, a breadth of products that offer something for all show attendees looking for the latest solutions and insights into capping; a pharmaceutical segment focused Beltorque by Zalkin Capper with limited changeover cost and small footprint, in-line capping technology, an entry-level rotary sealing machines and a high-speed screw capping turret. (Zalkin Pack Expo Booth # 3418)
Small footprint, high-speed in-line pharmaceutical capping machine offers flexiblity
The Zalkin Beltorque in-line capper is a unique continuous-motion, high-speed capper with an integrated cap feeder that applies caps and tightens to required torque. This machine offers extensive flexibility in the number of bottles with no tool, quick changeover and minimum change parts at speeds of up to 300 bottles per minute. This stainless-steel machine offers fast line clearance and is manufactured following Good Automated Manufacturing Practices (GAMP) standards.
High performance Zalkin 14-head capping turret mounts onto any monobloc filler
The capping turret displayed is designed to mount onto a monobloc filler to run salad dressing bottles at 450 BPM. This turret incorporates the following state-of-the-art design features: quick-release capping chucks for no tool, quick changes; quick-adjust torque setting on capping head; lubrication-free capping head design, self-lubricating bushings for headslides, and corrosion-resistant construction.
The new Zalking TM 135 entry-level capper provides performance and flexibility at a groundbreaking price
The Zalkin TM135 is an innovative entry-level capper rated at up to 60 units per minute. The machine on display at Pack Expo will be able to apply roll-on aluminum closures to either glass, PET, or aluminum bottles and is a fully integrated system with a bulk cap feeder/elevator incorporated within the framework of the capper.
Zalkin is also displaying: the H6 hysteresis screw capping head with quick release chuck for 28 mm 1881 double seal, super shorty screw closure; BH5 magnetic screw capping head with quick release chuck for 38mm VHS Silgan cap; and the type 97 Stainless steel ROPP Sealing Head.
"This year's Pack Expo exhibit, is taking Zalkin's capping systems to a whole new level, we are striving to show a range of solutions that would bring a capping solution to all show attendees looking for linear or rotary capping solutions," said Franck Vidal, vice president of sales and marketing for Zalkin. "Pack Expo 2017 is an excellent opportunity for customers to sit down with Zalkin for capping discussions, and Pro Mach brands Pacific Packaging and Federal Manufacturing exhibiting in adjacent booths, for insights on in-line and rotary filling solutions. We've created a Pack Expo one-stop shop at the Pro Mach bottling and capping group island."
Be sure to stop by the Zalkin Pack Expo Booth #C-3418 to see the latest capping solutions. For more information about Zalkin capping and cap handling solutions, call 877-549-3301, and visit the Zalkin website, http://www.zalkincapping.com.
About Zalkin
Zalkin manufactures high-speed capping machinery and cap sorting and feeding systems. Zalkin's quality equipment serves the global beverage, food, pharmaceutical, chemical, personal care, household goods, and distilled spirits industries. Zalkin in the Americas is located in Athens, Georgia. http://www.zalkincapping.com.
About Pro Mach
Pro Mach is a leading provider of integrated packaging and processing products and solutions for food, beverage, consumer goods, pharmaceutical, and other diverse companies. Through its brands, Pro Mach provides product packaging and processing equipment, PMMI certified training, installation, parts, and service in Bottling & Capping, Primary Packaging, Flexible Packaging, Material Handling, Identification & Tracking, and End-of-Line Packaging.
Pro Mach has a diverse customer base, from Fortune 500 companies to smaller, privately-held businesses worldwide, which depend on reliable, flexible, technologically advanced equipment and integrated solution sets. Pro Mach is headquartered near Cincinnati, Ohio, with manufacturing facilities and offices throughout the United States, Canada, and Europe. For more information about Pro Mach, visit http://www.ProMachInc.com.