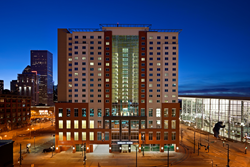 Denver, CO (PRWEB) September 20, 2017
The Embassy Suites by Hilton Denver Downtown - Convention Center is pleased to announce that it has been honored as a GOLD Leader by the Colorado Department of Public Health and Environment's Environmental Leadership Program, making it the third hotel in Colorado and the ONLY hotel in Denver to be honored with this coveted green recognition.
Colorado's ELP honors companies for going beyond state and federal environmental regulations and for their outstanding environmental achievements that help keep Colorado a desirable place to work and live.
Denver's first LEED Certified Silver hotel, the Embassy Suites Denver Downtown was also recently awarded the Green Leader badge by TripAdvisor and is currently ranked as the #1 Green hotel in Denver on TripAdvisor.
The full-service downtown Denver hotel completed a major property renovation earlier this year that included new modern furniture, lighting, carpet and soft goods in tones of blue-gray and camel in each of the 403 spacious guest suites and 27,000 square feet of meeting space – which can host up to 650 people.
During the renovation, the hotel converted 4,800 incandescent light bulbs to LED light, which reduced energy costs by 5.66% Also as part of the renovation, the hotel donated all furniture that was still in good condition to local charities. 
Each quarter, the hotel donates nearly 200 pounds of soap and 200 pounds of shampoo bottles to Clean the World, which repurposes the leftovers into new soaps for third world countries. 
"We are thrilled to be recognized for our dedication to offering guests an environmentally-friendly stay in the heart of downtown Denver," said General Manager Ed Blair. "We are constantly striving to finding new ways to operate this property as green as possible."
Located in the heart of downtown Denver, across the street from the Colorado Convention Center, amenities at the hotel include a saline-based indoor swimming pool, 24-hour fitness facility and 24-hour BusinessLink™ Business Center. Guests can enjoy complimentary cooked-to-order breakfast daily and an Evening Reception with snacks, wine & beer.
Managed by Denver's Sage Hospitality, the Embassy Suites Denver Downtown is owned by Carey Watermark Investors 2 (CWI 2), a non-traded REIT focused on investing in lodging and lodging-related properties.
To learn more about the Embassy Suites Denver Downtown, please visit their website or call 303-592-1000.
About Sage Hospitality
Founded in 1984, Denver-based Sage Hospitality is an industry leading hotel and restaurant management company, real estate investor and hospitality brand developer. Sage is known for outstanding relationships with major hotel brands and creating places that people want to go to, not through, including 10 unique restaurant concepts by Sage Restaurant Group and independent luxury properties by Sage Hotels.  To learn more about Sage, visit http://www.sagehospitality.com.
About Carey Watermark Investors 2
Carey Watermark Investors 2 (CWI 2) is a publicly registered REIT that was formed to make investments primarily in the lodging and lodging-related sectors. Affiliates of W. P. Carey Inc. and Watermark Capital Partners advise CWI 2 and manage its portfolio. http://www.careywatermark2.com