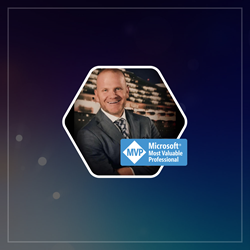 I look forward to continuing to use cutting-edge Microsoft technologies to build solutions that will change the landscape of enterprise technology
Chicago, IL (PRWEB) September 21, 2017
Michael Zaletel of Productive Edge, a Chicago-based Digital Transformation Consultancy, has been recognized as a Microsoft MVP for 2018. This designation represents the highest honor awarded to Microsoft developers and partners. Michael was also recently named a Xamarin MVP by Microsoft for his work in enterprise mobile application development.
"It is an honor to be recognized as a Microsoft MVP," says Michael. "At Productive Edge, we have leveraged a wide range of Microsoft technologies to create some of the most revolutionary and sophisticated enterprise applications on the market to date. I look forward to continuing to use cutting-edge Microsoft technologies, like Azure Cognitive Services, Visual Studio 2017, Hololens SDK and Xamarin.Forms, to build solutions that will change the landscape of enterprise technology."
As VP of Technology & Innovation at Productive Edge, Michael works on a variety of sophisticated enterprise solutions - from mobile applications to web applications, and is currently working on a number of virtual and augmented reality solutions for several Fortune 1000 clients. His work spans a variety of industry verticals from healthcare, tourism and gaming to sports and entertainment.
Productive Edge is recognized as one of 12 Xamarin Elite Consulting Partners in the world and was also recently recognized by Microsoft for their mobile work as a partner of the year award finalist. As a full-service digital technology agency, the firm provides end-to-end web and mobile development services, from business strategy to development and ongoing support. They have extensive experience in a variety of industry verticals, including Fortune 1000 clients in healthcare, retail and financial services. Productive Edge specializes in digital transformation using platforms like Sitecore, Liferay, and Magnolia, as well as Cloud Native Architecture and Cloud Migration, Big Data Analytics, Machine Learning, Artificial Intelligence, Blockchain and Virtual Reality.
For more information on Productive Edge, please call 312-560-9000 or email Services(at)ProductiveEdge(dot)com.