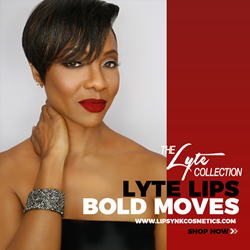 "My company has grown tremendously in the past 2 years and it was important to me to develop a website to give our customers a better shopping experience." Stated Denise Wiggins, CEO of LipSynk Cosmetics. "I am also thrilled to announce our partnership with the iconic MC Lyte on her new collection -
Charlotte, North Carolina, September 19, 2017 (PRWEB) September 20, 2017
Women's Empowerment Brand, LipSynk Cosmetics officially announced the release of their new website http://www.Lipsynkcosmetics.com designed to help better serve it's customers and growing consumer base. The company is dedicated to providing high quality lipsticks, lip glosses and lip creams that compliment women of all skin tones.
The newly redesigned website features a bold, clean design and a user friendly experience with improved navigation and functionality that will help the company expand its customer base.
Created with the user experience in mind, the site allows customers to see the full product portfolio LipSynk Cosmetics has to offer. In addition, it helps users quickly and easily navigate the site to find the product they need.
New features include product filters which allow users to easily narrow down products based on cost and type. Rapid response functionality and long scrolling technology allowing the site to be compatible with all browsers and mobile devices.
"My company has grown tremendously in the past 2 years and it was important to me to develop a website to give our customers a better shopping experience." Stated Denise Wiggins, CEO of LipSynk Cosmetics. "I am also thrilled to announce our partnership with the iconic MC Lyte on her new collection - The Lyte Collection, which is now available to purchase on our site. Being able to partner with celebrities such as MC Lyte, who also work to empower women, has always been a life goal for me. I am so blessed that we are able to accomplish empowering women worldwide through this collaboration"
"I've always wanted to present my fans with something spectacular in the realm of beauty. The Lyte Collection includes shades that will capture the essence of women of every skin tone and from day into night, The Lyte Collection has varying colors to capture every mood. I'm excited to partner with Lip Synk Cosmetics to bring something fresh and new to the market place." States MC Lyte.  
Visitors can expect to see frequent updates with new products, sales and promotions in addition to the release of the LipSynk Cosmetics Brand Ambassador Program and Lifestyle Blog which will allow users to engage with beauty influencers and get exclusive updates on events and special announcements.
About LipSynk Cosmetics:
LipSynk Cosmetics is a women's empowerment brand founded in 2014 by Mrs. Denise Wiggins, a dynamic woman of God with a passion for helping others, especially women. She has created a line of products that are designed to naturally enhance a woman's beauty.  LipSynk Cosmetics offers gluten-free and luxurious moisturizing lipsticks and lip glosses in addition to an18 hour matte. Products come in numerous shades & colors – neutrals… to bold …and fun, trendy night and weekend colors and are formulated to compliment women of all skin tones! LipSynk Cosmetics is more than a Cosmetics company, it is a brand that empowers women around the world and through their Solo Mom Makeover Campaigns where single moms are given beauty and little makeovers that help them feel beautiful, confident, inspired and empowered.
The Lyte Collection is a collaboration between the legendary Hip Hop Artist MC Lyte and LipSynk Cosmetics. The Lyte Collection is designed for women who dare to step into the "Lyte". Women who are sassy, confident and bold. MC Lyte is a Grammy Nominated Rapper, Actress, Speaker and Philanthropist. A portion of the proceeds from The Lyte Collection go to her non-profit organization Hip Hop Sisters Foundation. For more information visit http://www.hiphopsisters.org.