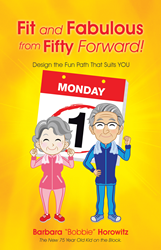 New York (PRWEB) September 25, 2017
Bobbie Horowitz was hardly able to walk without excruciating pain in her late 40's due to severe Osteoarthritis and multiple health issues. As a cabaret and theater producer, Horowitz would manage to get to rehearsals on time, but wasn't able to use walking as her main source of transportation in New York City, so she had to take a cab everywhere.
It wasn't until she saw a particular doctor and met with a spiritual coach, that Horowitz realized she could take steps toward relieving her pain by utilizing the methods that worked best for her body and lifestyle. At age 60, Horowitz was able to walk pain free and achieved optimum health, where she now helps others do the same.
In her new book, "Fit and Fabulous from Fifty Forward!," Horowitz provides readers with a guidebook to incorporating fitness, health, and goal setting into their everyday lives. Through "Mini-Q's" and "Get-To-Do" lists, readers can redefine their fitness and health goals in order to use what works best for their bodies and lifestyles—no matter their age.
"In my health journey, I discovered that doing what worked best for me in terms of exercise, nutrition, and mental health drastically changed my outlook on life and ageing," Horowitz said. "Health is the most important thing we have, and without this realization, I would not be where I am today."
In "Fit and Fabulous from Fifty Forward!," readers can utilize Horowitz's methods and guidance in order to achieve their ideal health state and make fitness fun and enjoyable for a lifetime.
"Fit and Fabulous from Fifty Forward!"
By: Barbara "Bobbie" Horowitz
ISBN: 978-1-5043-3770-0 (sc); 978-1-5043-3772-4 (hc); 978-1-5043-3771-7 (e)
Available at the Balboa Press Online Bookstore and Amazon
About the Author
Bobbie Horowitz has an extensive career in the arts as a performer as well as a cabaret and theater producer and songwriter, where her work has won many awards, including the 2016 & 2017 Manhattan Association of Cabarets Award for Best Emcee. Her most notable cabaret show is called, "It's Just a Number!" and is hosted monthly at The Metropolitan Room in New York City, where she honors a notable person over the age of 50 who has learned a new trade or started a new career. In addition to her performing arts work and being an author, Horowitz also works as a certified image consultant. For more information about the author and her book, please visit: http://www.bobbiehorowitz.com
Review Copies & Interview Requests:
LAVIDGE – Phoenix
Maggie Driver
480-998-2600 x 584
mdriver(at)lavidge(dot)com
General Inquiries
LAVIDGE – Phoenix
Danielle Grobmeier
480-998-2600 x 557
dgrobmeier(at)lavidge(dot)com