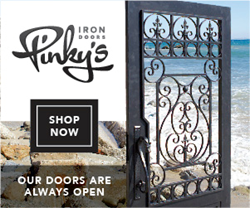 Los Angeles, CA (PRWEB) September 21, 2017
Houzz Awards Pinky's Iron Doors a 2017 Award for Service
The people at Houzz take home remodeling and design very seriously. Pinky's Iron Doors proudly accepts a coveted Houzz 2017 Award for Service.
Houzz is all about connecting homeowners and home professionals, and they don't recommend just anyone when it comes to providing great customer service. Pinky's Iron Doors not only received the 2017 Award for Service, the company is also recognized as a Houzz Influencer for its outstanding knowledge and advice.
Pinky's Iron Doors is very active in the Houzz community,with over 500 photos posted to the website's ideabooks. The company responds very quickly to questions from people in the Houzz community, always ready to offer advice and provide outstanding customer service.
People might not think about adding iron doors to change the look and feel of their homes, but Pinky's Iron Doors is quick to make them change their minds. Not only does an iron door add character and value to a home, the company specializes in custom iron doors to fit their customer's needs and personalities. They follow through with their customers from the first inquiry, all the way through offering several options and installing a door that sets homes apart from their neighbors. Pinky's Iron Doors is so dedicated to good service, the company has an employee whose sole job is to help spread important information online, and to ensure that customers who reach them through the internet have the best possible experience. The Houzz 2017 Award for Service tells the story, as the honor is based on real client satisfaction ratings from Houzz users.
Contact Pinky's Iron Doors at (844) 843-6677 to get ideas for installing pre-made or customized doors, or visit their website for more information. The Los Angeles area company is family-run and understands how important it is to make your home your own.