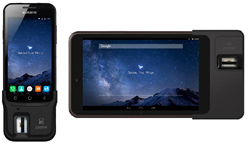 Seoul, South Korea (PRWEB) September 25, 2017
Bluebird, Inc., innovator and manufacturer of Bluebird handheld computers, tablets and mobile payment devices, announced that they have been successfully integrated with a national database provided by the Registraduría Nacional del Estado Civil (RNEC) in Colombia, which enables the commercial deployment in the region.
Bluebird biometric lineup that have been approved to operate with RNEC includes the handheld computer EF500 iBio and the 8-inch rugged tablet RT080 iBio – enabling public services from notaries to health entities, banking professionals and other enterprise users to precede biometric authentication that they need to verify customer identification.
Both EF500iBio and RT080 iBio are the enterprise-grade mobile devices built with the highest level of security using fingerprint matching and interface with RNEC. The integrated biometric sensor guarantees encryption of all the transmitted information for high security.
The stable 3G and Wi-Fi connectivity ensures the fastest speed and powerful performance for fingerprint scanning and data processing while running multiple applications thanks to the robust platform. The best-in-class durability guarantees unsurpassed reliability.
EF500 iBio – Mobile Computer with Fingerprint Scanner
Bluebird's flagship mobile computer combines advanced enterprise-grade functionality and durability with sleek, lightweight design.

Designed for inventory management, price control, staff communication, scheduling, order taking, and customer engagement
5" touch screen display with damage-resistant Gorilla glass
IP67 rated —sealed against water and dust
Drop specification: 1.5 m
2-D imager, 13 MP camera
Wi-Fi and 4G LTE wireless connectivity
Push-to-talk with crystal-clear audio and noise-canceling technology
Efficient power management for long battery cycle
Optical biometric sensor
RT080 iBio – Biometric Rugged Tablet

Rugged but sleek 8 in. tablet
Use for customer engagement in retail, data input, order taking, etc
Optional smart plugs, including bar code scanner, MSR, hand strap, POS keypad, etc.
IP65-rated and 1.0 m drop specification
Wi-Fi and 4G LTE wireless connectivity
Optical biometric sensor
About RNEC
About RNEC National Registry of Civil Status is the official voting organization of the Republic of Colombia, which is responsible for the development and approval of the policy of Civil Registration in Colombia and attends everything connected with the approval, realization and control of the proper plans and programs of the civil registration. Besides, the organization is in charge of the implementation of the National Census and all necessary preparations to the different types of elections. To learn more, please, visit the website: http://www.registraduria.gov.co
About Bluebird Inc.
Bluebird is the innovator and global manufacturer of industrial handheld computers, tablets and mobile payment devices, with more than 3,000 customers and 600 partners in over 120 countries. From secure mobile payments to workforce automation and customer engagement, Bluebird's broad product portfolio spans all markets, connecting people to information wherever they need it. The company is headquartered in Seoul, South Korea, and has local sales offices in the USA and an R&D center in India. To learn more, visit http://www.bluebirdcorp.com