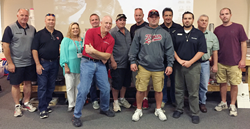 KANSAS CITY, MO (PRWEB) September 22, 2017
Sioux Chief Manufacturing recently hosted a group of plumbing contractors and wholesalers from Minnesota for a tour of their new headquarters in Kansas City and existing manufacturing plant in Peculiar, MO.
The evening before the tour, members of the Sioux Chief team accompanied the visitors to a Kansas City Royals baseball game, where the Minnesota Twins edged past the Royals late in the game to win 4-2. The next morning, the group toured Sioux Chief's new Kansas City facility where several manufacturing departments, along with the warehouse and distribution, are currently operating. The visitors spent the rest of the day in Peculiar, touring the manufacturing plant and participating in a round-table discussion.
"All the comments, questions, and feedback these visitors bring are so important to Sioux Chief," said Jake Ismert, Regional Sales Manager for Sioux Chief. "It's what makes these tours such a great learning experience for us."
Matt Benson from GR Mechanical of Rogers, Minnesota, was impressed by some of the innovative products he saw on display. "I definitely saw some products that will make our jobs go a little more smoothly," Benson said. "We'll be taking back a lot of ways to improve labor-savings on our projects."
For more information on Sioux Chief, visit their website at http://www.siouxchief.com.