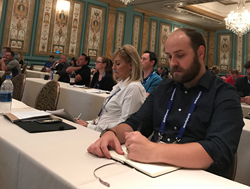 Preston, MD (PRWEB) September 24, 2017
Another great conference has been put into the books for this year's Digital Dealer 23 in Las Vegas, Nevada. Hundreds of dealers and vendors all arrived at the Paris Las Vegas Hotel and Casino to both learn and share the latest trends, strategies, and innovations in the automotive industry. iFrog Digital Marketing and Preston Automotive Group were among the few to be able to speak during the three-day conference.
Dave Wilson of both Preston and iFrog spoke during the Keynote Panel of Tuesday, September 19th. This panel captivated an audience to discuss expectations and relationships between both dealership and vendor. Hosted by Frank Lopes, topics were discussed of how most vendor and dealership relationships existed. Considered as "Its Complicated" Dave, along two other vendor and dealer panelist, showed the way to cultivating the best relationship between the two parties. Viewers were able to take away from the session on how to work together and boast a beneficial partnership between two companies.
Before the Keynote Panel, Digital Dealer 23, Adesa and TradeRev auctioned off a 2018 Harley Davidson Iron 833. Benefiting an amazing cause, the Make-A-Wish Foundation Southern Nevada, David Wilson Jr. of Preston Automotive Group stepped up to win the auction for the motorcycle. Helping local communities and charities has long been the foundation to their company and family culture. "I am happy to have had the opportunity to help out a great local cause for the Make-A-Wish Foundation Southern Nevada." says David.
The following day, Brent Durham of iFrog Digital Marketing and David Wilson Jr. spoke early in the morning on the topic, "Breaking into the Top 100 Dealer List." As a dealership anomaly, Preston Ford sits in a town of 800 people but continues to finish in the Top 100 Ford Dealers in the Nation year after year. Selling 500+ new Ford units in the month of December, the Top 100 Sales Drive is among one of the most recognized dealership sales events in the United States. Together, both Brent and David shared the secrets of success with an audience of dealer principals, general managers and internet directors.
iFrog Digital Marketing and Preston Automotive Group would like to thank Digital Dealer for having the opportunity to speak at the digital automotive conference. For any questions or if you would like to reach out to iFrog Digital Marketing please contact Dave Wilson or John Skalstad. For a copy of the "Breaking into the Top 100 Dealers List" presentation please email brent(at)ifrog(dot)com.
Dave Wilson
CEO
iFrog Digital Marketing
Dave(at)iFrog(dot)com
410.829.7171
John Skalstad
National Sales Director
iFrog Digital Marketing
John(at)iFrog(dot)com
443.618.0288
About iFrog Digital Marketing:
iFrog Digital Marketing is an automotive exclusive digital advertising marketing agency that has been founded upon the Preston Automotive Group. They specialize in implementing strategies and tactics for automotive dealership to expand the reach online and capture more sales and better brand presence. Among their services and capabilities are Digital Marketing Strategies & Consulting, Social Media Marketing, SEO, Paid Search, Display Advertising, Online Video Advertising, Graphic Design, Mobile Advertising, Reputation Management and Lead Management. For more information visit http://www.iFrog.com
About Preston Automotive Group
Preston Automotive Group serves the Delaware, Maryland, Virginia and Pennsylvania areas with Chrysler, Dodge, Ford, Genesis, Hyundai, Jeep, Lincoln, Mazda, Nissan, and Ram Truck brands. The auto group carries the largest selection of new and used cars and trucks. Additionally, the dealership services all makes and models, both imported and domestic cars with ASE certified and factory trained technicians. To further serve your automotive needs the Preston Automotive Group is also home to three auto body shops conveniently located around Delmarva in Preston, Cambridge, and Snow Hill, Maryland. For more information visit http://www.prestonmotor.com