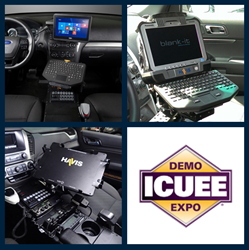 (PRWEB) September 26, 2017
Havis Inc., a leading manufacturer of mobile office solutions, will display new docking and mounting solutions for numerous brand computers at booth #5228 during The International Construction and Utility Equipment Exposition (ICUEE) 2017 from October 3-6 in Louisville. Havis will feature the recently added DS-PAN-1000, 1100, and 1200 Series of docking solutions for Panasonic's Toughbook 20 and 33.
Havis will be using the ICUEE show to gain market research on a new Universal Truck Console currently still in development. Attendees will be asked for their feedback with an in booth survey. The information gathered from industry professionals at the show will be considered in the final design.
Also on display in the Havis booth at ICUEE will be a Nissan Frontier and a Ford Transit Connect equipped with Havis products.
As an American manufacturer, Havis designs, produces and uses its mobile office solutions in its own operations. Through collaboration with end users as well as vehicle and computer OEM partners, Havis works to solve business problems unique to mobile professionals, and provides a consultative approach to guide customers through a Total Mobility Solution.
Havis works directly with laptop and tablet manufacturers such as Dell, Getac, Microsoft, Panasonic and more to ensure device compatibility with docking stations and to satisfy the needs and requirements of the market place. Havis recently partnered with Panasonic to develop the new DS-PAN-1000, 1100, and 1200 Series. Each series provides docking solutions to secure the Panasonic Toughbook 20 Laptop, Toughbook 33 Laptop, as well as the Panasonic Toughbook 33 Tablet only.
When Havis docking stations and cradles are combined with the company's broad selection of mounting and motion accessories, the solutions can be integrated into a number of in-vehicle applications to better equip and improve the effectiveness of mobile workers.
Havis will also display a range of mobile office accessories, including power supplies, keyboards and Screen Blanking Solutions to provide easy, safe and legally compliant ways to prevent driver distraction and manage mobile computer displays while operating vehicles. For more information on Havis' full range of solutions for mobile offices, and explore the Havis Product Configurators please visit: http://www.havis.com
Follow Havis
Stay up-to-date on the latest products and announcements from Havis through the Havis Equipped Blog, LinkedIn and Facebook.
About Havis
Havis Inc. is a privately held, ISO 9001:2008-certified company that manufactures in-vehicle mobile office solutions for public safety, public works, government agencies and mobile professionals. For more than 80 years, the Havis mission has been to increase mobile worker productivity with industry-leading products that are built to the highest safety and quality standards and are designed with comfort in mind. Havis is dedicated to responsible intellectual property management, and fosters ongoing innovation. Havis' patent and trademark portfolio demonstrates commitment to consistently researching and developing unique products and solutions for mobile industries around the world. With headquarters in Warminster, Pa., a location in Plymouth, Mich., and Havis Europe Ltd. based in the United Kingdom, Havis currently employs more than 300 people. For more information on Havis, please call 1-800-524-9900 or visit http://www.havis.com.