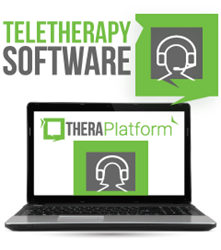 There are many general videoconferencing tools on the market allowing therapists to meet their clients virtually, but they were not built with therapists in mind, and they lack therapeutic materials
Burbank,CA (PRWEB) September 27, 2017
TheraPlatform is a teletherapy platform that allows therapists to connect with their clients online. It provides therapists with not only a virtual room but also built-in tools and therapeutic materials, such as interactive apps, making online therapy engaging and enjoyable.
"There are many general videoconferencing tools on the market allowing therapists to meet their clients virtually, but they were not built with therapists in mind, and they lack therapeutic materials," said Beata Klarowska, co-founder of TheraPlatform. "We had the pleasure of meeting many therapists in person, when attending professional conferences, and they all reported to us that preparing for online session is very time-consuming, as therapists themselves need to organize and create their own materials to share with their clients," added Beata.
TheraPlatform provides individual therapists and organizations with turnkey teletherapy software that helps therapists to focus on their clients and saves planning time. Therapists can take advantage of interactive tools available in TheraPlatform, such as a whiteboard, apps, document sharing, and screen sharing. TheraPlatform can be used by speech and language pathologists, occupational and physical therapists, and mental health providers, making it an ideal platform for practices, clinics, or organizations that provide multidisciplinary services.
About TheraPlatform
TheraPlatform was developed by Virtual Speech Center Inc., a software development company founded in 2011. Virtual Speech Center Inc. has developed over 40 apps for therapists to date, helping them to treat cognitive and communicative disorders.
To learn more about TheraPlatform, visit http://www.theraplatform.com.
To schedule a demo, visit https://www.theraplatform.com/Support/Contact.