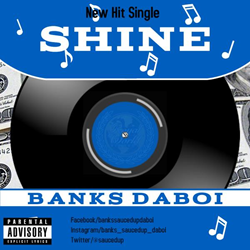 Dallas, TX (PRWEB) September 27, 2017
Banks Daboi recently released his latest single, "Shine", which is currently available to stream and download through Coast 2 Coast Mixtapes. Banks Daboi is a Hip-Hop artist from Dallas, Texas. He was born on June 12 in Dallas, Texas and was raised in the southeast part of Dallas known as Pleasant Grove on the 9900 block of Bruton Rd. Banks has a sound that is compared to many but has his own unique sound of ambition and pain. He pushes forward and always gives 100% to his music as he remembers a statement that one of his favorite artist, Young Dolph, stated in a Rolling Stone interview, "Any negative thoughts, negative thinking, negative people, negative anything, you just push that shit out your life. You push that shit out the way and give it no attention, none whatsoever, and focus on nothing but positivity. Focus on taking care of your family making money and your relationship with God. It's like, you don't even have time for negativity. You don't have time to give it no attention, none of that shit and that's what I've been on my whole life." He has a true passion and gift for music like no other. Knowing he has his family, friends, and fans in his corner, he strives to be the best.
Since he began rapping at the early age of 7, Banks DaBoi is yet to have his big break. Using lyrics to describe his life growing up and pain that he deals with he is slowly making a name for himself in Dallas. The ideal goal for him is being successful in an industry that will allow his voice to be heard. Also in an industry that will allows him to give to give back to a city that has schools and students that are in need. While his passion for music grows everyday he stills waits for his time to shine.
Recently, Banks DaBoi participated and won a Coast 2 Coast LIVE showcase in his hometown of Dallas, TX. He continues to be driven and focus on making and releasing great music for his fans. His hit song "Shine" will be featured on an upcoming Coast 2 Coast LIVE mixtape. He will be performing live in Dallas on October 15th with Coast 2 Coast LIVE. While he will be booking performances, he will also be working on his highly-anticipated mixtape "Now or Neva". The mixtape will be released on October 13th, 2017. The mixtape "Now or Neva" will have music that expresses the pain of being raised by a single mother as well as a lifestyle once lived. The ideal of the name "Now or Neva" comes from a feeling that he had since he re-focus his self on music. A feeling that now at the age of thirty it is now or never for him.
About Coast 2 Coast Mixtapes:
Coast 2 Coast Mixtapes are the most widely distributed mixtapes in the world, with over 100 million downloads/plays generated by over 300 volumes officially hosted by major artists. Coast 2 Coast has a solid reach in the new music industry with a digital magazine, DJ coalition, industry tips blog, yearly convention, and more. Coast 2 Coast Mixtapes represents a unique opportunity for artists of all urban genres, from major to indie. For more information, visit http://www.coast2coastmixtapes.com