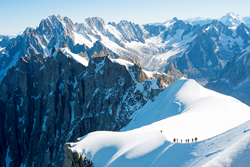 New York, NY (PRWEB) September 28, 2017
Whether it's hiking through the Alps, wine tasting in the UNESCO-protected Lavaux region, or visiting the Matterhorn, Switzerland gives travelers a diverse escape in the heart of Europe. Members of The United States Tour Operators Association (USTOA) are offering new itineraries, special savings, and authentic Swiss experiences to entice travelers to visit Switzerland now.
For a glimpse into the majestic destination of Switzerland click here or visit http://www.ustoa.com/blog/switzerland-tours for more USTOA member packaged travel itineraries to Switzerland.

For more information about USTOA or to find a Swiss vacation search Switzerland in the "Find Your Dream Vacation" section of the USTOA homepage.
About USTOA:
Representing nearly $15 billion in revenue, the member companies of U.S. Tour Operators Association provide tours, packages and custom arrangements that allow 8.6 million travelers annually unparalleled access, insider knowledge, peace-of-mind, value and freedom to enjoy destinations and experiences across the entire globe. Each member company has met the travel industry's highest standards, including participation in the USTOA's Travelers Assistance Program, which protects consumer payments up to $1 million if the company goes out of business.
As a voice for the tour operator industry for more than 40 years, USTOA also provides education and assistance for consumers and travel agents.
Contact:
Gina Dolecki/Katherine Henry
Redpoint
212-229-0119
dolecki(at)redpointspeaks(dot)com / henry(at)redpointspeaks(dot)com
###