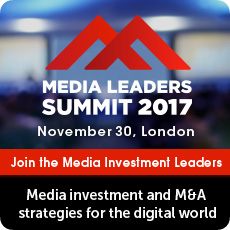 (PRWEB UK) 28 September 2017
TV and broadcast media industry leaders from across Europe and the USA are meeting with investment bankers, investors and advisers to assess merger and acquisition options at the Media Leaders Summit in London on November 30 as consolidation is predicted to accelerate in the broadcast media industry in 2018.
Leaders from Time Warner, Liberty Global, Scripps Networks, Discovery Networks, Netflix, Turner, Modern Times Group, M7 Group, Wunderman, VICE Media, Channel 4, BT, YouTube and ONE Championship are among the broadcast media companies represented at the event which forms part of the annual TMT Finance World Congress event, the largest gathering of key financial decision-makers, investors and advisers in the telecom, media and tech space globally, organised by leading TMT M&A news provider TMT Finance.
"Broadcast media businesses continue to look for scale through consolidation and bolt-on acquisitions, as well as increasing their investment into producing their own content which is driving a lot of deal activity across the media sector globally," said Ben Nice, Managing Editor of TMT Finance News. "We have an outstanding line-up of key speakers from the top international TV and broadcast businesses as well as the leading investment bankers, private equity investors and advisers and over 20 sessions and breakout debates on new investment opportunities, so we are especially excited about this year's event," he added.
Significant mergers and acquisitions in this space in 2017 include: Discovery's US$12bn acquisition of Scripps Networks; AT&T's mammoth US$85.4bn deal to buy Time Warner; CBS Corp's US$165m move for Australia's Ten Network; MTG's disposal of its Baltic assets to Providence Equity for US$124m; Liberty Media's acquisition of Formula One for US$8bn; French group Mediawan's multiple acquisitions of Groupe AB for US$289m, plus CC&C and RTL9; and Altice Media's E440m swoop for Portuguese media company, Media Capital.
As well as panel debates on Media Leadership Strategies, Mergers and Acquisitions, and TV, Video and Broadcast, the Media Leaders Summit also includes break-out sessions on Emerging Markets TV, Investing in Digital Media, Sports Content Rights, Next Generation Broadcast, Virtual Reality Leaders and Media Scale Up Strategies. Digital Publishing Leaders and M&A executives are also represented at the event. The outstanding Media M&A Deals, Advisers and Financiers of 2017 will also be celebrated at the TMT M&A Awards Dinner on November 29.
Medial Leaders Summit is a senior executive only event and part of TMT Finance World Congress 2017, produced by TMT Finance.