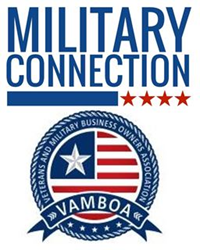 We are excited to see the continued growth of our social media reach
Simi Valley, CA (PRWEB) September 28, 2017
Gregory Media CEO Debbie Gregory is proud to announce that MilitaryConnection.com and its sister organization VAMBOA, the Veterans and Military Business Owners Association, achieved new records on social media, surpassing 1.2 million combined fans and followers.
This growth in social media is also having a positive impact and generating increased traffic on the websites.
MilitaryConnection.com, known as "the Go to Site" is one of the most comprehensive online directories of resources and information, with something for everyone. This site connects its audience with excellent jobs and employment resources, military/veteran friendly colleges, universities and vocational schools, benefits, news, resources and much more. There is also a comprehensive directory for each military service branch. MilitaryConnection.com is an outstanding online advertising venue to reach military, veterans and their loved ones.
The web site also works with a multitude of non-profits within the military and veteran communities, using it significant reach to help them "get out the word" on their causes and events, and facilitates win/win partnerships with organizations and clients.
"We are excited to see the continued growth of our social media reach, as well as website traffic," said Gregory. "We know that we are delivering quality resources to our audience, including the daily articles on our Blog and our Newsletter."
VAMBOA, a 501 (c) 6 non-profit trade association, has over 7,000 members nationwide. VAMBOA focuses on connecting members with corporations seeking a diverse network of suppliers. The association is supported through corporate sponsorships, and does not charge members any membership fees.
"Supporting the businesses of our military members and veterans and contributing to their successes provides us with the opportunity to express our pride and appreciation to and for the many who have served and sacrificed to make our country free," said Gregory. " It also enables corporations to work with companies run by America's heroes.
About MilitaryConnection.com
MilitaryConnection.com offers one of the most comprehensive directories of military and Veteran resources on the web, focusing on employment, education and more. MilitaryConnection.com has been named a Top 100 Employment Web Site by the International Association of Employment Web Sites for five years in a row. It is that focus on employment that garnered MilitaryConnection.com the prestigious Weddle's Users Choice Awards in 2015. MilitaryConnection.com features thousands of pages of resources and information. There is something for everyone including, but not limited to a Job Board and Virtual Job Fair, comprehensive Post 9/11 GI Bill education information with a directory of thousands of scholarships and a Veteran school directory, news, press releases, special events, pay charts, benefits, service directories, commissaries and exchanges, golf courses and more. Military Connection has the honor of working with incredible non-profits to improve the quality of life for those who serve. When the next tour is back home, it's on MilitaryConnection.com, the Go To Site.
About VAMBOA
VAMBOA, the Veterans and Military Business Owners Association is a 501(c) 6 non-profit organization. VAMBOA focuses on connecting its members with corporations that want and need a diversified network of suppliers, including Veteran and Service Disabled Veteran Owned Businesses. VAMBOA's mission is to help drive the success of their military and veteran business owners. Their goal is to connect members with large corporations and government agencies who want to do business with them. Membership in VAMBOA is free.