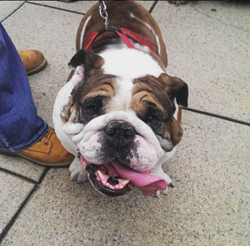 Four-legged friends are welcome all year in Franklin County and there are many dog-friendly places and parks to visit, including the shaded Norlo Dog Park in Fayetteville, Bubba's Happy Trails Dog Park in Shippensburg off Britton Road and the Cumberland Valley Animal Shelter's Dog Park, located behi
(PRWEB) September 30, 2017
World Animal Day on October 4 focuses on how animals enrich our lives and the Franklin County Visitors Bureau invites all to treat them to festivals, treats and experiences in Franklin County on that day and throughout the year.
Pamper your pooch or kitty that day at Vintage Hounds Grooming or The Paw Spa Grooming, both in Chambersburg, with a wash, cut and clip of their nails to keep them healthy and happy. For a new toy, collar or scratching post, The Pet Store on Lincoln Way East provides a personal touch for pets and owners with a wide range of brands to choose from. This independently owned business prides itself in providing a personal touch for pet owners.
Make sure to pick up a special dog-safe chocolate treat at Olympia Candy Kitchen while in Downtown Chambersburg. This chocolate shop has been making small-batch chocolates for over 100 years with treats for every member of the family.
A dish of iced cream for a furry friend is a great treat after a long day and in Franklin County. There are plenty of places that are dog-friendly including national chains like Brusters and Dairy Queen but also great local favorites like Trickling Springs Creamery, which makes their ice cream with GMO-free and organic milk products. In Greencastle, get a delicious cone of vanilla ice cream for fido and an ice cream sandwich to go at Mikie's Ice Cream & Green Cow or Lizzy's Ice Cream & Sandwich shop. At the Historic Ice Cream Station, grab a chair on the outside pavilion and enjoy one of their many flavors.
Four-legged friends are welcome all year in Franklin County and there are many dog-friendly places and parks to visit, including the shaded Norlo Dog Park in Fayetteville, Bubba's Happy Trails Dog Park in Shippensburg off Britton Road and the Cumberland Valley Animal Shelter's Dog Park, located behind the shelter and is open dawn to dusk every day.
The animal shelter also hosts year-round events that are dog friendly including an Easter Hound Hunt on Palm Sunday, a 5K Whisker Walk & Run in May, Furry Fun Days in June at the Shippensburg Township Park, a Dog Days of Summer Carnival in August and a Christmas Open House. Franklin County Visitors Bureau is pleased to feature the shelter with a special weekly "Pets of the Week" segment on social media.
Franklin County is also home to Caledonia State Park and Cowan's Gap State Park, each with over 10 miles of hiking trails. Other hiking trails include Chambersburg Rail Trail, which runs 1.2 miles from West South Street to Commerce Avenue in Chambersburg and the Cumberland Valley Rail Trail, a 10.9 mile trail that runs through Franklin and Cumberland Counties.
The First Friday of September in Downtown Chambersburg goes to the dogs with Fido's First Friday, featuring live music, dog contests, dog vendors, therapy dogs, businesses and much more!
The Franklin County Visitors Bureau invites all to explore Franklin County PA and enjoy the history, arts, recreation, natural beauty, fresh foods and warm hospitality of communities like Chambersburg, Greencastle, Mercersburg, Shippensburg, and Waynesboro. Franklin County PA is located just north of the Mason Dixon Line and an easy drive to Washington DC, Philadelphia, and Pittsburgh. Discover more….plan your visit at ExploreFranklinCountyPA.com , by contacting 866.646.8060 or 717.552.2977.