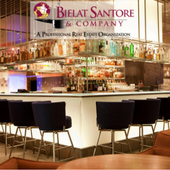 Allenhurst, New Jersey (PRWEB) October 02, 2017
Bielat Santore & Company is increasing their presence in the social media world. The commercial real estate company has launched a business Facebook page, to be used as a platform to promote company news. This Facebook page is in addition to the Jersey Beats & Eats page which the company has sponsored for several years.
Users are encouraged to "like" the new Bielat Santore & Company business page which will display company news, featured business and real estate listings, properties the company has sold, and ongoing educational series the firm creates for the restaurant industry.
To follow Bielat Santore & Company on Facebook, go to https://www.facebook.com/123BSC/. For restaurant news and general happenings around the Garden State, visit their sister page, Jersey Beats & Eats at https://www.facebook.com/JerseyBeatsEats/.
About Bielat Santore & Company
Bielat Santore & Company is an established commercial real estate firm. The company's expertise lies chiefly within the restaurant and hospitality industry, specializing in the sale of restaurants and other food and beverage real estate businesses. Since 1978, the principals of Bielat Santore & Company, Barry Bielat and Richard Santore, have sold more restaurants and similar type properties in New Jersey than any other real estate company. Furthermore, the firm has secured in excess of $500,000,000 in financing to facilitate these transactions. Visit the company's website, http://www.123bsc.com for the latest in new listings, property searches, available land, market data, financing trends, RSS feeds, press releases and more.