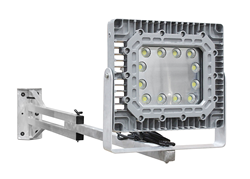 The pivoting aluminum arm gives operators the ability to adjust this switch blade LED to fit the exact illumination needs of their application.
Kemp, TX (PRWEB) October 05, 2017
Leader in industrial lighting, Larson Electronics, has announced the release of an explosion proof switch blade dock light with a pivoting aluminum arm. This powerful and energy efficient fixture has been designed as a direct replacement for less efficient halogen, or HID loading bay and dock lights.
The EPL-SBDL-150RT-48 is a Class I Divisions 1 & 2, Class II Divisions 1 & 2 LED dock light, constructed of copper-free aluminum with a powder coat for durability. IP67 rated, dust-proof and protected against high pressure jets and temporary submersion, this light is durable and resistant to vibration and impact. The adjustable swing arm provides operators with two pivot points for optimal positioning: 170° swing from the mounting bracket and 340° from the center, while the light head is vertically adjustable up to 270°. This swing arm is ideal for mounting the unit to loading door areas and docks.
This explosion proof unit provides 17,500 lumens of high quality light, drawing only 150 watts. It has a color temperature of 5000K and color rendering index of 75, far superior to high pressure sodium or mercury fixtures. It features multiple LED drivers, each consisting of individual Cree LED boards configured into a series of banks. In the event of driver failure only the affected bank will stop operating; the other banks will continue to run as normal. This LED technology and heat dissipating design, help this fixture achieve a 50,000-hour rated lifespan with 80% lumen retention. This dock light is universal voltage capable, operated with 100-277 VAC, 50/60Hz, and also offered in a low voltage option.
"The pivoting aluminum arm gives operators the ability to adjust this fixture to fit the exact illumination needs of their application," said Rob Bresnahan, CEO of Larson Electronics LLC. "It can also be mounted with the light head oriented on the top or bottom side of the arm, to illuminate objects in any location."
About Larson Electronics LLC: Larson Electronics LLC is a manufacturer of industrial lighting equipment and accessories. The company offers an extensive catalog of industry-grade lighting and power distribution products for the following sectors: manufacturing, construction, food processing, oil and gas, military, marine and automobile. Customers can benefit from the company's hands-on, customized approach to lighting solutions. Larson Electronics provides expedited service for quotes, customer support and shipments.
High Resolution Image 1-EPL-SBDL-150RT-48
High Resolution Image 2-EPL-SBDL-150RT-48
High Resolution Image 3-EPL-SBDL-150RT-48
High Resolution Image 4-EPL-SBDL-150RT-48
High Resolution Image 5-EPL-SBDL-150RT-48
Product Cut Spec Sheet-EPL-SBDL-150RT-48