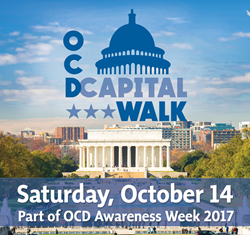 OCD is a mental disorder often misunderstood and marginalized by society.
Washington D.C., Maryland (PRWEB) October 05, 2017
Recently, the phrase, "I'm sooo OCD", has become all too common in popular culture. Given the media portrayals of obsessive compulsive disorder (OCD), it is no wonder that so many people consider OCD to be a personality "quirk" as opposed to what it really is — a serious mental illness. International OCD Awareness Week, taking place October 8–14, 2017, is an opportunity to change popular misconceptions about OCD and related disorders through community events around the globe.
OCD affects about 2 to 3 million adults and 500,000 kids and teens in the U.S. alone. It can take an average of 14–17 years to receive treatment due to lack of information and understanding about the disorder and how to properly treat it. In an effort to help increase the general public's understanding of the disorder and help more people living with OCD find effective treatment, the International OCD Foundation (IOCDF) founded OCD Awareness Week in 2009.
This year, OCD Awareness Week will be celebrated by a number of organizations across the U.S. and around the world and will include events such as educational lecture series, Ask the Expert panels, OCD inspired art exhibits, and grassroots fundraisers, as well as facts and stories shared across social media platforms to educate the public, all in an effort to help others understand how OCD truly impacts those affected by it.
"OCD is a mental disorder often misunderstood and marginalized by society," said Jeff Szymanski, PhD, executive director of the IOCDF. "Our goal with OCD Awareness Week is to not only shed light on the gravity of OCD, but also to help advocate for members of the OCD community to have access to resources and treatment."
On Saturday, October 14th, as OCD Awareness Week comes to a close, the IOCDF will partner with their affiliate, OCD Mid-Atlantic, to co-host the first-ever OCD Capital Walk: Step Up, Speak Up. Taking place at the National Mall in Washington D.C., this awareness-building and advocacy-promoting walk will be open to all members of the OCD and related disorders community, and will serve as a new opportunity to unite and grow our voice during this critical week.
For more information about this year's OCD Awareness Week, including a schedule of events taking place throughout the week, please visit iocdf.org/ocdweek.