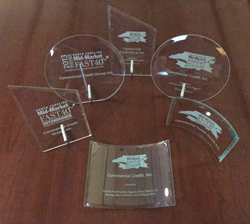 "Every day our people come to work prepared to make a difference for our customers. They have a great combination of energy, ambition and a customer service mindset that continues to drive revenue and profitability growth."
CHARLOTTE, NC (PRWEB) October 05, 2017
Equipment and accounts receivable finance company, Commercial Credit, Inc., parent company of Commercial Credit Group Inc. (CCG) and Transfac Capital, has made the Business North Carolina Mid-Market Fast 40 List for the sixth year in a row.
To qualify for the list, a company must be headquartered in North Carolina, have annual revenue between $10 and $500 million and demonstrate sustained revenue and employment growth over the past three years. Dan McDonough, president and CEO stated, "It's an honor to be recognized year after year for our growth. We've worked hard to build a sustainable business model that allows us to serve our customers, provide opportunities for our employees and support the North Carolina economy."
Commercial Credit, Inc. is one of only two companies to make the list each of the last six years. McDonough, credits the employees for the continued company success. "Every day our people come to work prepared to make a difference for our customers. They have a great combination of energy, ambition and a customer service mindset that continues to drive revenue and profitability growth."
The forty companies were recognized at a luncheon, hosted by Business North Carolina and Cherry Bekaert LLP, on October 2, 2017, and will be featured in the November issue of Business North Carolina magazine.
About Commercial Credit, Inc.:
Commercial Credit, Inc., through its wholly owned subsidiaries Commercial Credit Group Inc. (including its division Manufacturers Capital) and Transfac Capital, Inc., provides equipment loans and leases to small and mid-sized businesses in the construction, fleet transportation, machine tool and manufacturing and waste industries and accounts receivable factoring in a variety of industries. Since its inception in 2004, CCG has originated over $3.0 billion of finance receivables. The company's sales force is located throughout North America. Commercial Credit, Inc. is headquartered in Charlotte, NC and operates full service offices in Buffalo, NY, Naperville, IL, Hamilton, ON and Salt Lake City, UT. For more information, please visit http://www.commercialcreditgroup.com, http://www.mfrscapital.com and http://www.transfac.com.
Contact Information:
Julie Murphy
704-944-2771
jmurphy(at)commercialcreditgroup(dot)com
###