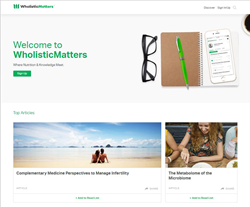 There is significant clinical research supporting this wholistic approach and our website will be a resource to show why it matters.
Palmyra, WI (PRWEB) October 10, 2017
Standard Process Inc. announces the launch of http://www.wholisticmatters.com, an online interactive educational website dedicated to wholistic and integrative health care and nutrition. Developed specifically for professional health care education, practitioners such as medical and naturopathic doctors, nurses, chiropractors, acupuncturists, pharmacists, nutritionists, and veterinarians can access advanced clinical insights featuring nutrition news, new research findings, and peer-to-peer conversation.
"Wholisticmatters.com offers a balanced and credible source for health care professionals who want to stay current on relevant clinical research and clinical care protocols on and about whole food nutrition," said John Troup, PhD, Vice President of Clinical Science, Education and Innovation at Standard Process. "The philosophy behind this site is based on the belief that health care and the use of nutrition therapy should focus on the patient as a whole. This involves an understanding of the underlying health needs of the individual patient and how whole food nutrition can help optimize health. There is significant clinical research supporting this wholistic approach and our website will be a resource to show why it matters."
Wholisticmatters.com delivers information on therapeutic areas relevant for wholistic, integrative, and functional health care approaches using nutrition therapy. It addresses important clinical care issues that include:
1. Immune and inflammatory management and control
2. Epigenetics, nutrigenomics, and precision medicine
3. Cardio-metabolic systems
4. Digestive health and the microbiome
5. Lifestyle health and wellness
Wholisticmatters.com partners with some of the world's most influential clinical investigators and institutions to ensure advanced, reliable information for clinicians.
Complimentary Membership
Health care professionals with an interest in integrative health and nutrition are invited to register for a free membership. Non-members will be able to view a small portion of the site.
Members of http://www.wholisticmatters.com can access many exclusive features:

Build a community profile to make connections with professionals who have common interests.
Explore and create read lists to share with others or save for later. Members can also view what their peers are reading and recommending.
Contribute to conversations via peer-to-peer message boards. The site offers a platform where members can ask questions and share experiences about patient-focused wholistic health care.
Receive nutrition news and updates from http://www.wholisticmatters.com.
Participate in continuing education events from some of the nation's leading experts.
Standard Process supports http://www.wholisticmatters.com as an independent educational resource for health care practitioners. The site is solely dedicated to advancing clinical information related to whole food nutrition and nutrition therapy and is not a commercial site.
About Standard Process Inc.
Standard Process is guided by the whole food philosophy of its founder, Dr. Royal Lee. Dr. Lee's goal was to provide nutrients as they are found in nature, where he believed their natural potency and efficacy would be realized. Today Standard Process proudly carries on Dr. Lee's legacy and regularly grows more than 80 percent of the raw plant ingredients found in its products on its certified organic farm in Palmyra, Wisconsin. Using state-of-the-art manufacturing processes to retain vital nutrients within each ingredient, Standard Process manufactures its supplements in its certified organic manufacturing facility. Standard Process employs high quality control standards and follows the Food and Drug Administration's good manufacturing practices. Connect with Standard Process at http://www.facebook.com/standardprocess or http://www.standardprocess.com