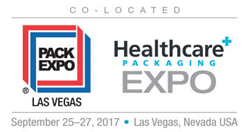 Charlotte, NC (PRWEB) October 06, 2017
noax Technologies, a leading German manufacturer of industrial computers, exhibited at the recent Pack Expo (Booth 8423) trade show on September 25-27, 2017 which was held at the Las Vegas Convention Center in Las Vegas, NV. Pack Expo, a trade show event for bringing the processing and packaging professionals together. The show is designed to assist manufacturers from over 40 markets capitalize on growth by providing access to the latest solutions for enhancing efficiency, flexibility, automation and productivity for supply chains.
noax had a great show and are excited to return with new opportunities to introduce our industrial touchscreen PCs into more manufacturing environments. noax displayed their latest widescreen industrial PC from their Steel Series line of industrial computers. As the first industrial PC of its kind, the noax S21WP offers PCAP multi-touch functionality which allows for smartphone-oriented gesture control in challenging environments. The S21WP's edge-to-edge display offers best-in-class screen performance with ultra-wide viewing angles and touch points.
noax Technologies has 25 years of experience in the proprietary development and product of complete sealed industrial PCs. noax offers customers a full spectrum of services ranging from consultation and sales to installation and technical support. noax rugged PCs are in use across the world in the most demanding environments in the food processing, logistics, automotive and chemical industries.