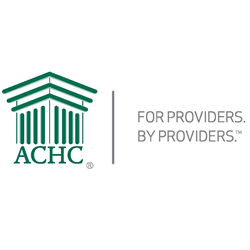 ACHC is ready to immediately accept applications and assist start-up agencies seamlessly through the licensure process
CARY, N.C. (PRWEB) November 29, 2017
Accreditation Commission for Health Care (ACHC) is pleased to announce that its Home Health accreditation program has been approved by the California Department of Public Health (CDPH) to satisfy California's licensure requirements for home health agencies operating in the state.
"ACHC is ready to immediately accept applications and assist start-up agencies seamlessly through the licensure process," said Teresa Harbour, ACHC's Program Director for Home Health, Hospice, and Private Duty. "Meeting the needs of California providers is essential to ACHC, so we have created accreditation prep tools and resources specific for these providers."
CDPH announced that, effective October 1, 2017, demonstration by a provider of ACHC accreditation will satisfy the state's requirement for licensure survey. CDPH has reviewed ACHC's standards and survey process and confirmed that they meet the state's requirements. ACHC has incorporated the Medicare CoPs and the California rules into the data collection tool so that providers have confidence that they are in full compliance.
ACHC has become synonymous with providing value, integrity, and the industry's best customer service. ACHC continuously monitors its customers' rate of satisfaction on a quarterly basis. This metric is consistently reflected in the fact that 98% of ACHC's accredited providers report a positive accreditation experience and 98% would refer ACHC to a colleague. Customers consistently speak to the responsiveness and efficiency of their personally assigned Account Advisors, as well as the knowledge and approachability of Surveyors.
ACHC is an internationally recognized non-profit accreditation organization that has stood as a symbol of quality and excellence since 1986. ACHC has CMS deeming authority for Home Health, Hospice, and Durable Medical Equipment, Prosthetics, Orthotics, and Supplies (DMEPOS), and a Quality Management System that is certified to ISO 9001:2015. ACHC's consultative approach to accreditation is designed to improve the quality of patient care while enhancing business efficiencies through service-specific standards and industry-based best practices. Throughout the entire accreditation process, ACHC is dedicated to delivering the best possible experience. For more information on ACHC's accreditation programs, or to download ACHC Accreditation Standards, please visit http://www.achc.org or contact customerservice(at)achc.org or 855-937-2242.