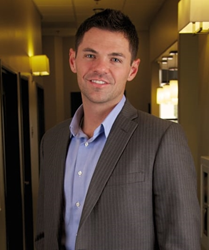 Las Vegas, NV (PRWEB) October 10, 2017
Dr. Curry Leavitt, periodontist in Las Vegas, NV, recently hosted a series of lectures for dental clinicians during his three-credit continuing education (CE) course on soft tissue solutions. Dr. Leavitt partnered with board-certified periodontist Dr. David H. Wong, who discussed the enhancement of everyday dentistry through innovative solutions in periodontics, including plastic surgery procedures, root coverage techniques, the connection between perio-restoration and root connection, and soft tissue solutions for dental implants.
This course involved a series of lectures presented during the three-hour dinner event and focused heavily on gum recession, dental implants and how the discussed soft tissue solutions can enhance common dental solutions. Attending clinicians were educated on how to "just say 'no' to the palate" for root coverage procedures and other innovative techniques to provide better outcomes for their patients.
Dr. Leavitt offers gum recession treatment and dental implant services, in addition to other periodontal treatment at his state-of-the-art practice, Red Rock Periodontics and Implantology, in Las Vegas. Dr. Leavitt treats patients with a wide range of periodontal concerns, from bone grafting to guided tissue regeneration and gingivectomy procedures. He also offers multiple dental implant options, including All-on-4® implants, same-day dental implants, and implant supported dentures.
Dr. Leavitt remains an expert in his field by continuing to stay up-to-date on the latest techniques and technologies in periodontal care. He offers cutting-edge dental technology at his office, including 3D Cone Beam CT imaging for accurate dental implant placement and the BIOLASE® WaterLase® dental laser for minimally invasive gum disease treatment. Dr. Leavitt also frequently attends and hosts CE courses to further his education and the education of clinicians in his field.
Patients in need of dental implants, gum recession treatment, or other periodontal services are encouraged to schedule a consultation with Dr. Leavitt. New appointments can be made by calling 702-834-8900 or by visiting http://www.redrockperio.com.
About the Doctor
Red Rocks Periodontics and Implantology is a leading periodontal practice serving patients personalized care in the Las Vegas, NV area. Dr. Curry Leavitt is a highly-trained periodontist who focuses on the art and science of state-of-the-art periodontics. Dr. Leavitt and his team are devoted to progress, cutting-edge procedures and the latest dental technology to ensure patients receive minimally-invasive and effective care. Offering a variety of services, the Red Rock Periodontics and Implantology team provides laser gum surgery treatment, same-day dental implant placement and calming sedation dentistry. To learn more about Dr. Leavitt, his practice or the services he offers, visit http://www.redrockperio.com or call 702-834-8900 to schedule a custom consultation.