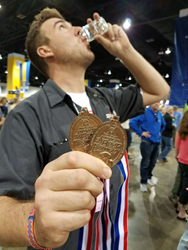 Branford, CT (PRWEB) October 10, 2017
Stony Creek Brewery claimed two Bronze Medals in the 2017 Great American Beer Festival, the largest commercial beer competition in the world and the premier symbol of brewing excellence..
In a ceremony at the Colorado Convention Center in Denver, award-winning breweries received prestigious gold, silver and bronze medals in 98 beer categories covering 161 different beer styles (including all subcategories), establishing the best examples of each style in the country.
Stony Creek Brewery was awarded bronze medals for its Stony Joe Coffee Mocha Stout (Coffee Beer Category) and for its flagship Dock Time Amber Lager (Vienna style Lager Category). This is the second medal for Dock Time, it had previously won a gold medal at the 2016 World Beer Cup in the same category.
Makers of Aggressively Laid-Back Beer, Stony Creek Brewery beers are a fusion of clean, bold and aggressive west coast flavors and east coast balance and drinkability.
Joining Stony Creek Brewery two other Connecticut craft breweries took home medals. Back East Brewing garnered gold for their Brown Porter and Half Full Brewery a bronze for their Bright Ale, an English style summer ale.
"I couldn't be more excited for our brewing team and for the Connecticut brewing community. To have three of Connecticut's craft brewers recognized in this prestigious competition shows that this state is to be reckoned with. We're honored to help lead the charge." said Andy Schwartz, Brewmaster at Stony Creek Brewery.
The 2017 Great American Beer Festival (GABF) competition awarded 293 medals to some of the best commercial breweries in the United States, plus three GABF Pro-Am medals to teams of homebrewers paired with professionals. Winners were chosen out of 7,923 competition entries from 2,217 breweries in 50 states plus Washington, D.C. Presented by the Brewers Association (BA), GABF is the largest commercial beer competition in the world and the premier symbol of brewing excellence.
Stony Creek Brewery, LLC, is a member of both the Brewers Association and the Connecticut Craft Beer Guild and is distributed in;
Connecticut: Dichello Distributors, Hartford Distributors, Levine Distributing
Maine: Federal Distributors, Maine Distributors, National Distributors, Valley Distributors
Massachusetts: Horizon Beverage, Quality Beverage, Williams Distributing, Girardi Distributors
New Hampshire: Amoskeag Beverages
New York: D. Bertoline & Sons
Rhode Island: Horizon Beverage
Vermont: Ferrell Distributing
For more information on Stony Creek Brewery visit them on Facebook at http://www.facebook.com/StonyCreekBeer or visit the Stony Creek Brewery website at http://www.stonycreekbeer.com.