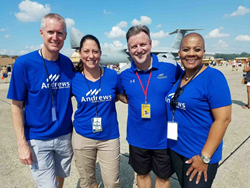 Suitland, Maryland (PRWEB) October 11, 2017
Since 2009, Andrews Federal Credit Union has served as the Premier Sponsor for the Joint Base Andrews Air Show, including the AirFest Party. This year's event was held September 15-17, and also commemorated the U.S. Air Force's 70th birthday.
Department of Defense cardholders and special guests, including 2,000 students visiting from 28 schools in the mid-Atlantic region, were treated to an exclusive kick-off event on the first day, featuring demonstrations by the Air Force Thunderbirds, Army Golden Knights, and the Air Force F-22 Demonstration Team, as well as an exhibit dedicated to Science, Technology, Engineering and Math. The event was open to the general public starting at 9 AM on Saturday, September 16. More than 100,000 people made their way to Joint Base Andrews to enjoy the dazzling aerial displays throughout the weekend.
"It is always an honor and privilege to sponsor the Joint Base Andrews Air Show," said Oma George, Chief Retail Officer. "The family-friendly environment, coupled with some of the most amazing flying and military aircraft exhibits made for a great time for all."
About Andrews Federal Credit Union
Andrews Federal Credit Union was founded in 1948 to serve the needs of military and civilian personnel by providing a vast array of financial products and services. With over $1.5 billion in assets, Andrews Federal has grown to serve more than 120,000 members in the District of Columbia, Joint Base Andrews (MD), Springfield, Virginia (VA), Joint Base McGuire-Dix-Lakehurst (NJ), and military installations in central Germany, Belgium, and the Netherlands. In addition, the Credit Union serves as a financial partner with many select employee groups in Maryland, the District of Columbia, Virginia and New Jersey.
To learn more about Andrews Federal Credit Union and its community involvement, or to become a member, call 800.487.5500 or visit http://www.andrewsfcu.org.