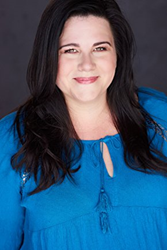 I don't want to just talk about the issues. I want to discuss solutions so we can move past the stereotypes and derive new ideas of beauty. I want to shine a light so bright on these issues that people will begin to think differently, and Hollywood will get the message.
New Orleans, La. (PRWEB) October 11, 2017
Actress Ann Mahoney (The Walking Dead, Same Kind of Different as Me) launches her first podcast on iTunes Oct. 11, 2017. Mahoney takes listeners on a journey to hear what experts and ordinary men and women from all walks of life have to say about what beauty is and how the interpretation of beauty is different for everyone, yet, Hollywood seems to cast a particular type for the love interest. Mahoney said, "As an actress, I am still waiting to see a change in how women are perceived in film and on TV!  There seems to be only one type of woman who is desirable as a love interest, and my feeling is men are attracted to a much wider variety of woman than is represented."
Mahoney's podcast also goes into depth about the harmful effects of negative body image. The actress stated, "I struggled with anorexia and body image issues, and I wanted to get to the root of why. In the past, I have opened my mouth and just started talking about an issue I was having, and suddenly people came out of the woodwork who had the same issues!  They were afraid to speak out. I feel like - if I can talk to as many people as possible, organize their thoughts into a podcast, and put it out there - it will be a problem solver. I want to fix it."
The Walking Dead actress developed the podcast in hopes of creating change. "I don't want to just talk about the issues. I want to discuss solutions so we can move past the stereotypes and derive new ideas of beauty. I want to shine a light so bright on these issues that people will begin to think differently, and Hollywood will get the message that beauty comes in all shapes, sizes, and colors."
Ann Mahoney is known best for her role as Olivia in The Walking Dead. Recently, Mahoney has been in CMT's Sun Records as Gladys Presley and Soderbergh's, Logan Lucky. Mahoney also stars in the Same Kind of Different as Me with Renee Zellweger which premieres Thursday, October 12, 2017, in L.A. Red Letter Entertainment reps Ann Mahoney.
###